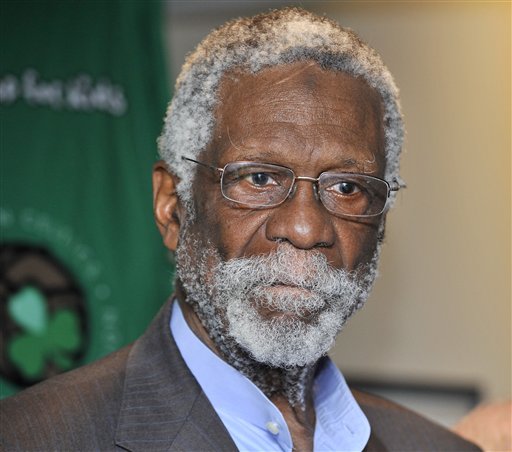 By Matt Norlander
Bill Russell, the greatest winner in the history of basketball, is putting his name against the NCAA.
The case, titled "
Russell v. NCAA, 11-04938, U.S. District Court, Northern District of California (Oakland)
," is an antitrust suit that deals with an issue the NCAA completely wishes would just go away: licensing. Licensing players' likenesses long after they've left college and profiting off that is a business practice the NCAA's been in for decades, and it's a battle it will ultimately lose. It's trying to drag out as many lawyer fees and court dates and postponements as it can, but with my amateur view of law, I'm definitively telling you right now the NCAA cannot go on profiting from people years, decades, after they leave their institutions of higher learning.
Russell taking a swing is just the latest, and perhaps biggest, name to take on the NCAA. The NCAA continues to insist it's not really doing anything wrong by acting in such a way. It's one of the worst stances the association can be affiliated with.
Electronic Arts Inc., the second-largest U.S. video game maker, is also named as a defendant in the lawsuit. Russell accuses it of using his image in a "Tournament of Legends" feature on an NCAA basketball video game. Russell, who led the University of San Francisco to NCAA championships in 1955 and 1956, said in the complaint filed yesterday in federal court in Oakland, that the association sells $150 videos of the team's championship games. At least 54 video clips featuring him are available through the website of the NCAA's for-profit business partner and photos of him through an NCAA on-line photo store, according to the complaint.


Russell seeks a court order blocking further sale of the videos, plus disgorgement of profits from the videos and unspecified damages.

Chris Radford, an NCAA spokesman, and Jeff Brown, an Electronic Arts spokesman, didn't immediately respond to e-mails and voicemails seeking comment on the lawsuit.
The case Ed O'Bannon has spearheaded will swallow Russell's case, and the litigious fight will continue. The two share a common complaint, issue and fight with the NCAA. It's not going away, either.
And what innocently started as a curiosity -- O'Bannon only discovered his likeness being used when a youngster asked him to play a game one day -- could end up being the most expensive lawsuit the NCAA has ever had.
Photo: AP