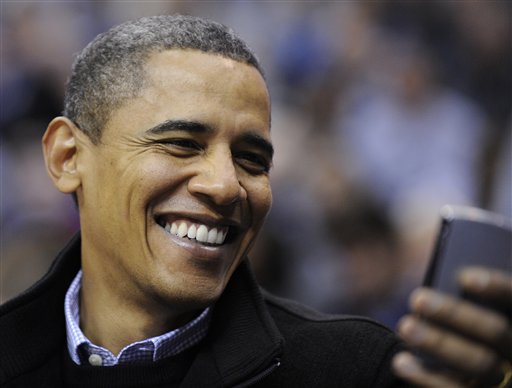 By Matt Norlander
Will the ship that sunk Osama host Obama?
According to USA Today
, which quotes
Morale Entertainment
executive Mike Whalen, there's already been an invitation extended to the most powerful man in the world. When North Carolina and Michigan State
play on the USS Carl Vinson in the first Carrier Classic on Nov. 11
, the President could very well be on hand to watch some college hoops, which
he's done before
on
multiple occasions
since earning the gig in the Oval Office.
"President Obama has been invited," Whalen told USA Today. "(The White House) is very interested. We're cautiously optimistic."
Ray Mabus, the Secretary of the Navy, is already on board to attend, per Whalen. Obama (pictured at right, presumably reading the latest news on Sarah Palin's presidential-race decision) would increase the security detail on the ship 20-fold. And it's already arguably the toughest ticket in the sport this season, Carolina-Duke game included.
Additionally, James Worthy has been locked in as the honorary captain for the Tar Heels. Worthy played under Dean Smith at UNC in the early '80s and is one of the biggest names in the history of the program. Initially Michael Jordan was the target for honorary captain, but a "personal conflict" is preventing him from showing up.
How perfect, though, since Magic Johnson will rep the Spartans. Magic and Worthy were teammates throughout the '80s and early '90s on the Lakers, of course.
Photo: AP