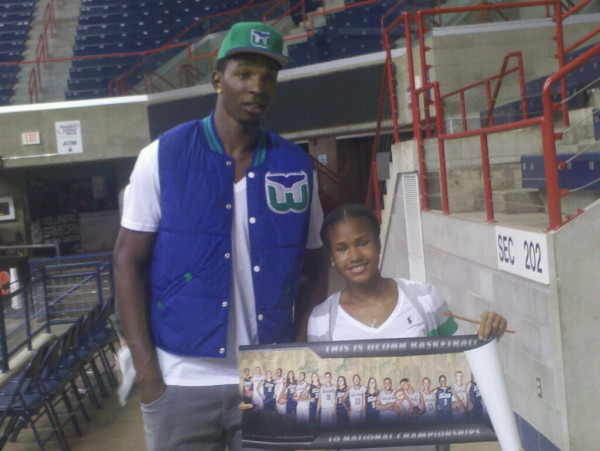 By Matt Norlander
STORRS, Conn. -- UConn's First Night has just ended. Gampel was loud as hell -- particularly because I sat in front of the subwoofers. I can't even hear myself typing this.
The highlight of the evening, truly, was Kemba Walker and Ray Allen being introduced. Both ovations were enormous and roof-rattling. Hasheem Thabeet's fashion choice of a shiny-blue Hartford Whalers winter-type vest was also astounding and didn't go unappreciated by the fans. I particularly adore the face that he's wearing a men's large.
But the dunk contest is what you want to see. I got onto the baseline and captured the video for your pleasure. Freak freshmen Ryan Boatright (who's about the size of an average American ninth-grader) and Andre Drummond made it to the finals, with Boatright winning it. In the final video, kind of thought for a millisecond
I was going to relive this
.
Here's Boatright's chair dunk.
Drummond's between-the-legs: not likely to be duplicated in game action this year.
Boatright's dunk from the baseline was plenty nasty ...
... but Ray Allen said Drummond's baseline flush was worthy of being among the best in the NBA's contest.