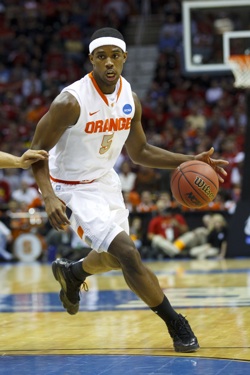 SYRACUSE, N.Y. – C.J. Fair was the least heralded of the Syracuse signees in the class of 2010. However, he played the most minutes of any of the newcomers last season and showed flashes of his potential.
This season, his teammates and coaches peg Fair as the one player who could be primed for a breakout season.
"The guy who got better is C.J. Fair," guard Brandon Triche said earlier in the week. "He's a guy who was more of a mid-range guy around the basket. Now, he's knocking the three down consistently, off the dribble, off the catch. I see a lot of different things from him."
Fair, a 6-foot-8 Baltimore native, averaged 6.2 points and 3.8 rebounds last season, coming off the bench and providing a boost in the frontcourt. He didn't start any games, but did play more than 30 minutes on four occasions. In those four contests, he averaged 13.0 points and 7.3 rebounds.
With a starting spot available in the frontcourt, one can expect numbers close to that from Fair during the upcoming campaign.
"I have a year under my belt," Fair said on Friday. "This is the year for me to have a big breakout year."
He said he spent the summer working on improving his outside range and expanding his game. If Fair is able to knock down 3-pointers with consistency, he could pose a major matchup problem for most opponents. He already has a deadly mid-range game, and the lefty forward is athletic and long around the basket.
Fair might be an undersized four-man in terms of strength, but his versatility makes up for it.
"He added something new to his game," senior forward Kris Joseph said. "He put a lot of work into his game this summer. He can make that jump."

Fair didn't enter Syracuse with much hype, but his impressive play has bestowed higher expecations on him this time around.
Photo: US Presswire