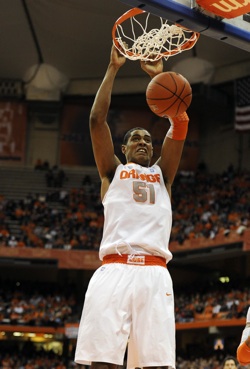 SYRACUSE, N.Y. – By all accounts, Fab Melo was one of the most disappointing freshmen in the country last season.
However, when one considers the limited basketball experience of the 7-foot Brazilian native, it's tough to justify the original hype placed on the Syracuse center.
"People had expectations for last year," Melo said. "But I had only played basketball for four years."
Melo played fewer than 10 minutes per game, averaging 2.4 points and 1.9 rebounds for the Orange. He showed flashes of his potential down the stretch, though, going for 10 points and six rebounds against DePaul, and then getting 12 points and four rebounds in the next game against St. John's.
In shootarounds and scrimmages, Melo looked a lot more mobile and agile than last season. He was running the floor effectively, blocking shots and making plays around the rim.
With double-double machine Rick Jackson no longer around, Melo knows it is his time to step up in the paint.
"I don't know if I'm ready [to replace Jackson]," he said. "But I'm definitely ready to bounce back."
His basketball ability is not the only question surrounding Melo. He was suspended for two games in February last season, and was also arrested on a domestic violence charge. The court hearing for the charge has been delayed five times and is now scheduled for November 30.
Sources told CBSSports.com that Melo would not miss any games due to the case, but his concentration could be a factor.
"When he's on the court, he doesn't worry about anything else," guard Mike Carter-Williams said. "The problems are in the past. Even now, he's just trying to move on."
"He got his head back into it," forward C.J. Fair added. "He has the skills. He just needs the right mindset."
If Melo can stay focused and motivated on the court, he could be the key for Syracuse's season – again.
Photo: US Presswire