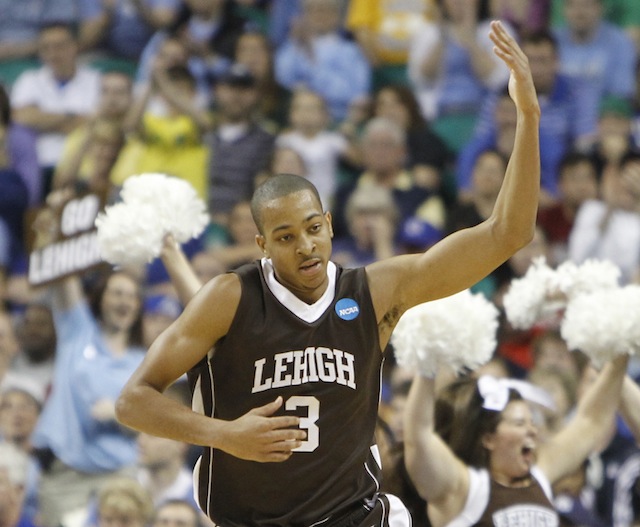 Quick: how many players are both the top returning scorer and rebounder in their conference? Just two.
And a follow-up: how many are 6-foot-3 or shorter? Only one: Lehigh junior guard C.J. McCollum, who posted 21.8 points and 7.8 rebounds last season.
"As his coach and someone who sees him day in and day out, I think he can play with anyone," head coach Brett Reed said by phone.
While some are quick to discount his numbers because of the competition in the Patriot, McCollum is filling it up against some of the better opponents on the Mountain Hawks' schedule.
He scored 42 against Kent State, dropped 32 on American, put up 29 on Bucknell his freshman year and had a stretch of 11 consecutive games when he did score below 20 points.
"He is just a very talented individual with unique attributes," Reed said. "Those have been able to come to the forefront. His confidence his high, and he demonstrates it night in and night out, against top-flight competition."
Interestingly, McCollum was vastly underrecruited in high school. He was only 5-foot-5 during his freshman campaign at GlenOak (Ohio), not really coming into his own until his junior and season seasons, when he led the county in scoring back-to-back years. During his senior season, he scored fewer than 20 points only one time.
Despite the prolific scoring numbers, many of the top mid-majors in the Midwest did not come calling. Bowling Green offered, St. Francis (Pa.) offered, as did some other Patriot and MAC colleges.
"I thought he was a mid-major player who could score but was inconsistent," said Scout.com's Brian Snow, who was based out of Ohio at the time.
To Reed, though, McCollum is the same player he was in high school – just better and more mature.
"Upon watching him the first time, I used the word 'enamored'," he said. "He had exceptional feel for a player his game, and he demonstrated the ability to score with some craftiness. Those two characteristics allowed him to make a transition to college quickly."
It wasn't hard to tell how good McCollum was once his career began at Lehigh. He scored 22 points in his third game against Quinnipiac, and also had a six-game stretch where he averaged 27.9 points per game en route to an NCAA tournament berth for the Mountain Hawks. He scored 26 points and grabbed seven rebounds in the first-round loss to Kansas.
After two years in the program, McCollum has already established himself as one of the best players in Lehigh history.
"If I saw it coming, he wouldn't be at Lehigh," Snow said. "A kid with good grades, he would have been hyped to the point where some high-major definitely would have come forward with an offer, and probably numerous high-majors."
This season, Lehigh heads into the year as the No. 2 team in the Patriot League, behind defending champion Bucknell. Moreover, McCollum – despite his numbers a year ago – was not the Player of the Year, losing out to Bucknell's Mike Muscala.
If McCollum continues to improve his all-around game, though, he could put the Mountain Hawks on his back for three days in March and carry them to an NCAA tournament bid.
"In only the way C.J. could, he steps up where he is needed," Reed said. "He recognizes the significant level of influence he has on our team."
It's about time everyone else does, too.
Photo: US Presswire