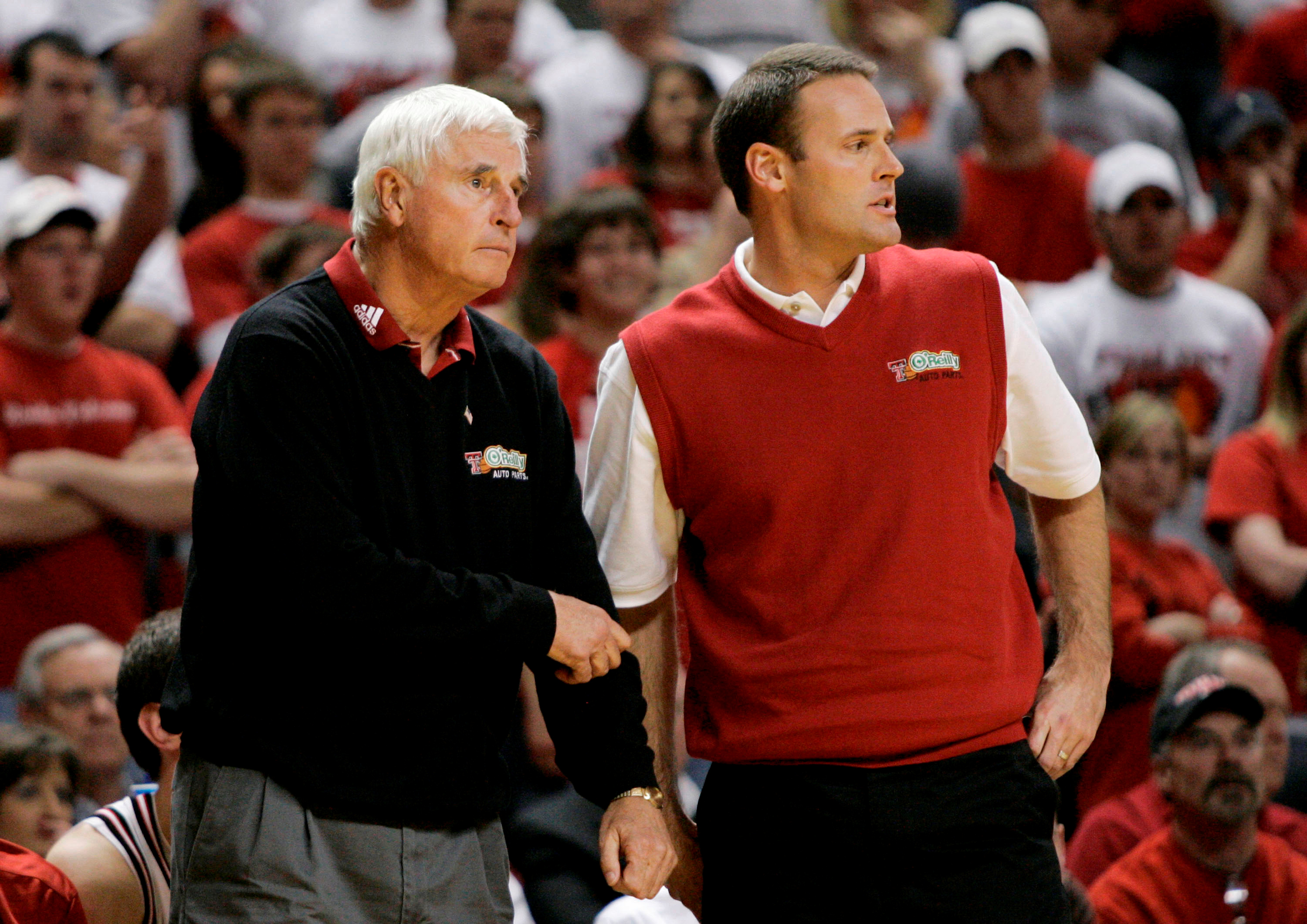 By Matt Norlander
Just because you're long out of the coaching game doesn't mean you can't commit an NCAA violation.
It's looking like Bob Knight
talked to a couple of recruits on the phone
, and since those recruits have verbally agreed to play at Lamar, where son Pat Knight coaches, then an NCAA violation did indeed take place. Only basketball staff members, with a few exceptions, can speak with recruits about joining any sports program. Even though Bob Knight is Pat's father, he's considered a person of influence; it's why universities do their best to get famous alums around the schools as frequently as possible. Those notable alums can't speak directly to recruits, but their presence can have an influence.
It must be noted Knight had a near-flawless record with the NCAA during his coaching career. His Hall of Fame tenure at Indiana revolved around winning a ton of games (and three national titles), graduating his players and not breaking the rules. The fact this likely secondary violation has occurred drips with irony.
From the
Indianapolis Star
:
Regarding his conversation with Bob Knight, Minton said, "He told me that he thought I' d be a good fit for the program and said he hoped he'd see me at Lamar." The Beaumont Enterprise reported last week that the players "attended the Lamar football game Saturday and talked by phone with Bob Knight."

NCAA spokesman Erik Christianson said he couldn't comment specifically on the Lamar situation because he didn't know the details. He added, however, "Generally speaking, telephone calls to prospects can only be made by coaching staff members or those listed in the exceptions." The exceptions include the university president and academic advisors.
Lamar is reported to be dealing with the situation internally right now, and it's likely they'll self-report and receive a slap on the wrist. Pat Knight, who's about as different from his dad as you could expect, didn't hide from the issue. In fact, in the following 135 words, he sounds a lot like Pop.
"It was a quick hello on the phone and that was it," he told the Star. "We recruited the heck out of the kids. He had nothing to do with that. I mean, he just was excited we were recruiting Indiana again and wanted to say hello to them and that was it."
Pat Knight added, "At least I'm not paying them. The NCAA should look into guys that are paying players and not worry about guys that are doing it the right way. ... I don't care if my dad is a celebrity or not. I think it's (expletive), honestly. The guy is my dad. If he wants to say hello to a recruit, he can. If we get reprimanded, fine. They need to check into guys that are outright cheating instead of nickel-dime stuff like that."
And ... scene. Thank you, Pat Knight.
Photo: AP