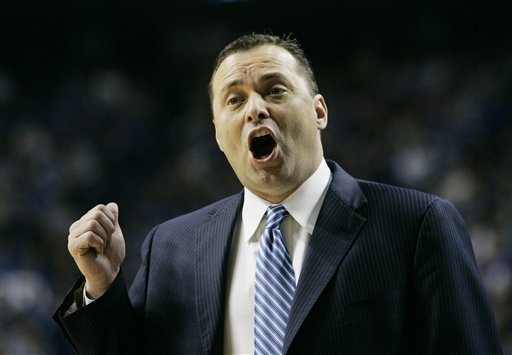 By Matt Norlander
With the release of its coaches poll today,
USA Today
has opted to pair that noteworthy college hoops news bit with a
hearty profile on Texas Tech coach Billy Gillispie
.
Texas Tech will not be included in the Top 25 of either the coaches or the AP poll, to be clear. Still, Gillispie's certainly a good subject to tackle. He's among the most enigmatic, polarizing, confusing and curious coaches -- at any level -- sports has today. His choice to leave Texas A&M to go to Kentucky was, in my opinion, the worst choice possible for him, the person.
I give Gillispie credit for landing a third major BCS job, though. He
can
coach. That's never been in doubt, even in Kentucky. During his time in Lexington, it was more of a clash between Gillispie's personality and the culture there. The man
never even signed a contract
while coaching the Wildcats. That's really bizarre, folks.
Failing to get UK to the NCAA tournament for the first time in almost two decades sealed his fate beyond any person-to-person conflict that existed, though. What gets overlooked: Kentucky also acted way too quickly and didn't think about the guy it was hiring. It needed someone to replace Tubby Smith, and Gillispie wasn't even the hot name of the month -- he was the hot name that day. Complete move based on impulse, not studiousness.
There are plenty of people in college basketball who do not like Gillispie. He is perceived as odd, and many would rather consider him outside the college basketball coaching fraternity. That's not to say he doesn't have friends in the business. He absolutely does. There's a reputation he'll fight daily until his teams win big, his personality adjusts, or something else like that happens.
Gillispie says he's on his way, though. He readily admits that Kentucky was a bad decision. He's willing to talk about things now that he probably wouldn't have been as recently as six months ago. Things like
the millions he reportedly lost
in the David Salinas saga and his history of alcoholism.
Gillispie talked about the impact of those events and his plans to rebuild Texas Tech and turn the Red Raiders into contenders for a national title. A striking quality about Gillispie is his enthusiasm. At Texas A&M and Kentucky, he could be guarded and defensive with the news media. Initially he declined USA TODAY's interview request, which associate athletics director Blayne Beal attributed to Gillispie's rocky ending at Kentucky, where camera crews followed him in the hours before and after his firing. Yet whether laughing about reruns of his favorite sitcom, Seinfeld, or speaking vibrantly about his job, Gillispie seemed at ease.
I'll break for brevity and levity for a second here. Gillispie digs The Sein? Billy, I've completely misjudged you! Let's talk favorite episodes. Is any one more underrated than
"The Bris"
? OK, back to Gillispie on his past:
"In certain places, you have 14 requests in a particular day and you can only honor one or two, so 12 people end up saying you don't like to get out and do those kinds of things," he says. "I actually love it. It's a way for people to see the energy we have." ... Gillispie says he no longer drinks. In 1999, while an assistant at Tulsa, he pleaded guilty to an amended charge of reckless driving. In 2003, a judge dismissed a drunken-driving charge, and it was later expunged, according to the Louisville Courier-Journal, which cited the El Paso County Clerks Office. Gillispie pleaded guilty to the 2009 charge in Kentucky in a plea deal. Giving up drinking, Gillispie says, "is what's right for me and what's right for people to continue to have confidence in me."
I'll go a little heavier than that and suggest that if Gillispie didn't give up drinking, he'd probably only have a couple of years at Tech before he was out of head-coaching in basketball for life. Texas Tech gives all of its support to Gillispie, as it should, but the man has to prove himself in a number of areas. His drinking problem is chief among that.
Any compassionate human should naturally root for Gillispie's redemption. He's self-aware now, or so it seems. We need as man positive influences in college coaching as possible. Gillispie didn't have the reputation before. He may not even have it now. But he's working toward scrubbing himself into a new image. Plenty once believed he wasn't capable of that kind of change.
Photo: AP