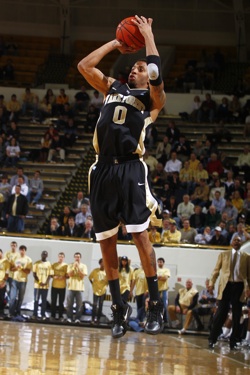 By Jeff Borzello
USC has found an interesting pipeline for new players: Wake Forest.
First, it was former Demon Deacons forward Ari Stewart deciding to transfer to the Trojans. Now, it's J.T. Terrell.
"4 everyone that wants 2 kno my nxt move…I'm now officially a USC Trojan!" Terrell
tweeted
on Wednesday night.
Terrell, a 6-foot-3 sophomore guard, averaged 11.1 points per game last season, starting 18 games and knocking down nearly 36 percent from 3-point land. He has tremendous range on his jumper, and will join an experienced Trojans team next season.
Wake Forest announced on September 5 that Terrell was leaving the school after being arrested for DWI.
"Due to circumstances surrounding his arrest, along with other recent indicators, it is obvious to J.T. and his family that J.T. suffers from a serious medical condition which requires immediate attention," Mike Grace, Terrell's attorney, said in a statement at the time.
With Stewart, Terrell and starting point guard Jio Fontan all sitting out the upcoming season, expect USC to make a move towards the top of the Pac-12 standings in 2012-13.
Photo: US Presswire