NEW YORK – Conference media days are a dream for writers that want a lot of information and people in one place. Simply put, they provide a treasure trove of nuggets on each team in the league. There were too many leftovers in the notebook to leave out and not share with everyone. Here are some of the more interesting tidbits gathered on Wednesday at Big East Media Day.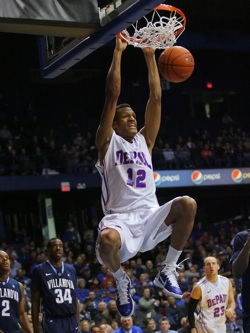 - Notre Dame forward Tim Abromaitis was recently suspended for four games after the NCAA ruled on a violation he committed three years ago. "We tried to fight it, but a rule is a rule," Abromaitis said. "I accepted it."
- Who will replace Ben Hansbrough at the point guard spot? Sophomore Eric Atkins (above), who led the Big East in assist-to-turnover ratio last season. "He was our sixth man last year, but he's ready to elevate his game," Abromaitis said.
- Sophomore Jerian Grant received rave reviews for his work over the summer and in the early part of the fall. "He's playing really well," Abromaitis said. "He's learning things as a player, moving without the ball, guarding his man. That's what we'll need him to do."
- DePaul received three pieces of bad news in the past week. Junior forward Tony Freeland will miss the season with a shoulder injury, while freshman Montray Clemons is done for the year after rupturing a tendon in his knee. Moreover, the NCAA ruled freshman Macari Brooks ineligible. "We thought we were pretty deep," head coach Oliver Purnell said. "We can't afford any more injuries."
- Purnell thinks Cleveland Melvin (right) is somewhat underrated on a national level, after averaging 14.3 points and winning Big East Rookie of the Year honors. "Probably so," Purnell said. "He had a good freshman year and a really good summer."
- Rutgers brought in a highly-touted freshman class – and the incoming guards are impressing early on. "Our guards have a little more experience than our big men," forward Dane Miller said, pointing to Myles Mack and Jerome Seagears. Coach Mike Rice, however, thinks Eli Carter could make more of an impact than both of them. "He might lead my freshman in points per game."
- Rice is impressed with Kansas State transfer Wally Judge. "He's a physical specimen. He just has to develop that consistency."
- Forward Kadeem Jack will likely be out until mid-January with a foot injury. Jack was looking like he would have a major impact in the frontcourt. "He's somebody where the light was already on," Rice said.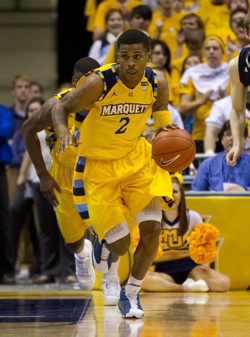 - Marquette forward Jae Crowder is pegging sophomore Vander Blue (right) as a true breakout performer. "He had a great summer, played in the Pro/Am, played for USA basketball," Crowder said. "His confidence is up; last year, he lost confidence. A lot of pressure is on him."
- Out of the freshmen, California native Juan Anderson has stood out the most to Crowder. "He's athletic, he goes hard, has a great motor," Crowder said. "Buzz [Williams] loves it, I love it."
- Despite the loss of three starters from last season, West Virginia forward Kevin Jones thinks highly of this year's team. "This is the most talented team I've been on," he said – and that includes the Elite Eight group that had Da'Sean Butler and Devin Ebanks.
- Freshman point guard Jabarie Hinds was cleared to play late in the process, but he's already been impressive. "He had to catch up," Jones said. "But he's looking real good, doing the right things."
- With Czech Republican native Patrik Auda and Latvian guard Haralds Karlis in the fold, Seton Hall has taken a foreign turn recently. "It's fun," guard Jordan Theodore said. "I'm trying new foods, trying to teach them slang."
- Fun fact: Auda knows five languages – Dutch, Spanish, Czech, English and Russian.
- Georgetown forward Hollis Thompson said the Hoyas still laugh about the infamous brawl in China over the summer. "It was a great bonding experience," Thompson said.
- Roy Hibbert, Jeff Green, Dwyane Wade and other NBA players came back to Georgetown to work out during the lockout. Thompson said the one who benefitted the most was Henry Sims, who played against Hibbert on a regular basis.
Photo: US Presswire (Eric Atkins, Cleveland Melvin, Vander Blue)