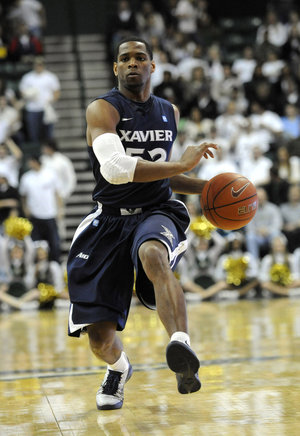 By Matt Norlander
Less than three days after big man
Kenny Frease was reinstated
, Xavier has lost its best player for the first game of the season.
Tu Holloway, the point guard we dubbed
the second-best in the nation
, and the
fourth-best player overall
in college basketball, will have to sit out Xavier's game against Mercer on Friday, Nov. 11. The university's press release reads in full, "Xavier senior guard Tu Holloway will sit out the first game of the upcoming basketball season due to a secondary violation of NCAA rules. The incident was self-reported immediately to the NCAA in August. This violation carries a mandatory one game suspension which will be served on November 11, 2011 vs. Morgan State University."
The violation,
according to Shannon Russell
of the
Cincinnati Enquirer
, stems from something -- you guessed it -- completely frivolous.
Sources believe the senior played in two summer basketball leagues. The NCAA limits college basketball players to participation in one summer league. Chris Mack declined to specify a reason for the one-game suspension. He confirmed that it was a self-reported secondary violation, and that Xavier notified the NCAA immediately in August. "I think the important thing is that we found it out internally. We weren't turned in by any other program. We police our own program," Mack said. "It's unfortunate but we'll move forward and follow the rules."
Holloway was involved with the Deveroes Summer Basketball League in Cincinnati over the summer.
The rule is absurd (who cares how often these guys play in what kind of games, so long as the coach is OK with it), and I'd hope it gets eliminated in the near future. Asking players to micromanage their time and passion with a spot they love -- when they're not even in school during summer session -- is the NCAA at its worst.
Photo: US PRESSWIRE