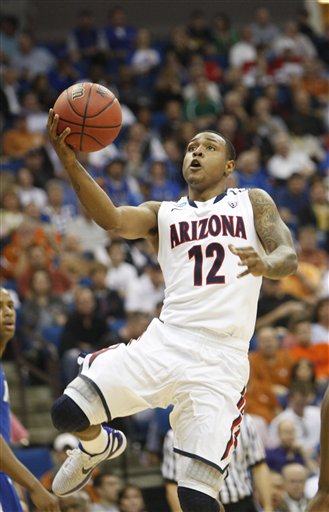 By Matt Norlander
NEW ROCHELLE, N.Y. -- I stopped in at Iona's practice Wednesday morning. The Gaels, who five seasons ago
won just two games
, are now
the favorites to win
the MAAC in 2011-12.
They should have won the league tournament last March, but awful shooting and lackluster hustle led to a St. Peter's upset.
The reason for the return of high hopes are three-fold: Michael Glover, the
preseason Player of the Year
; Scott Machado, who we think is one of
the 30 best point guards
in college basketball; and MoMo Jones, the junior transfer from Arizona with the exciting-but-enigmatic game.
I watched Iona practice and scrimmage for more than two hours. But I'll get to those facets and observations, particularly Machado and Glover, later on. For now, I want to talk to you about what Jones talked to me about Wednesday morning.
Jones, who's letting his hair grow out and resembling
Donald Glover
these days, spoke for a good 25 minutes about his life, himself, the change of scenery and why it's a
choose-your-own-adventure
kind of time for him now.
He didn't practice. Why? Well, it actually dates back to the tournament game against Texas, when Gary Johnson and Jordan Hamilton sandwiched Jones on a breakaway layup attempt. He landed awkwardly on his knee, and thereafter he had a cracking sound -- with no pain -- for a few weeks. He dealt with it, sometimes jerking his knee into place before it cracked as a sign of normalcy/relief. That's not normal, but again, he was never in pain; he soon discovered it was worn-out cartilage that had built up over years of going full throttle on cement courts.
Jones landed on his knee at Iona's first official practice, so he took a shot and is sitting out a little while longer. He'll likely rejoin the team in practice by week's end, or Monday at the latest.
Having said that, a few tidbits from our conversation that I'm able to share. First of all, Jones said he never intended on leaving Arizona. The decision came fast, and after the season, but he's made the move because of his grandmother's illness. He wants to be close to her, to stay in daily communication and be a weekly physical presence for her, his mother, and his little sister. Iona coach Tim Cluess expected Jones to get cleared for this year due to the severity of his grandmother's illness (which is still in limbo, but doesn't seem immediate).
Jones is an entirely different guy off the floor. On it, he's arrogant beyond confident, brash and unafraid to do whatever he'd like. It's why Arizona fans got so frustrated with him. He can play the point, but he prefers the combo-guard position. It's what he couldn't do at Arizona. It's what he will do at Iona. Jones played at the prep level beside shooters like Kemba Walker and Doron Lamb. He knows how to acquiesce, so long as he's playing against seriously skilled two-guards with range. (I wonder how it will work, as Machado and Jones will go back and forth at the 1. But that's a post/column for another day.)
The guy -- guy, not kid -- wants to lead this team. I think he will, and so does Cluess. But there's still plenty for him to prove. He's probably not as good as he thinks he is, at least not right now. Few players lived and died in spurts like Jones did at Arizona. What I do know: Jones is a player obsessed with himself and his abilities. He rattled off random stats from games past I couldn't even remember taking place. I'm talking points, assists, rebounds and turnovers.
He has NBA aspirations; I don't know if he's honestly thinking about making the leap after this year, his junior campaign. From what I gather, he was debating the NBA at certain points while at Arizona. Why that shouldn't be a problem at Iona: Jones knwos the guys there. He's from Harlem and played at the high school and prep level against a number of Iona's players. He's known Machado and Glover for years and years. They were friends long before they were teammates.
Plus, Jones isn't the best player on this team (it's Glover, and Cluess would take Machado and junior Kyle Smyth over Jones right now). Though he's so, so confident, I think Jones knows how vital this season is for him.
"My life can go in one of two very different directions," he said. "I can work hard, help this team and make my dream come true, or I can ruin it."
That self-awareness, particularly with a player that voluntarily chose to go from an elite program to a MAAC one, isn't that common. Iona's going to be a lot of fun to watch. Jones will be part of that. Seeing how he goes back to being the guard he wants to be, and seeing how that improves (or, who knows, maybe it doesn't) Iona's team will be one of the biggest mid-major storylines this season.
Photo: AP