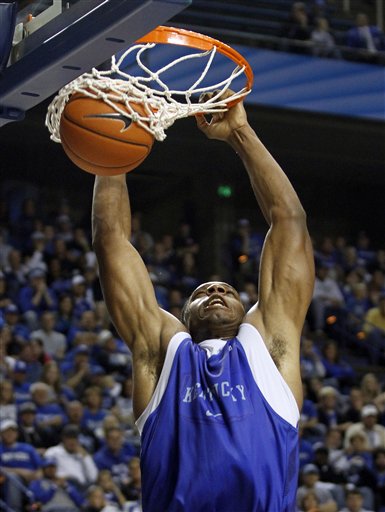 By Jeff Goodman
I've always maintained there's no better used car salesman than John Calipari.
He can sell ice to an eskimo, sell hair gel to Chris Mack and, well, you get the point.
But maybe the Kentucky coach was on point when he said that he couldn't imagine there's a better player in college basketball than Terrence Jones.
Sure, it was just an intrasquad scrimmage.
But Jones went for 52 points on Wednesday night.
Jones was an insane 24-of-31 from the field, 2-of-4 from beyond the arc and 2-of-5 from the line. Oh yeah, he also grabbed 16 boards and dished out six assists.
We need to put this in context.
Jones' team scored 126 points.
It was a glorified scrimmage.
But still. By all accounts, Jones looks like a different player - maybe even more dominant than the one that came out of the gates a year ago.
I say some of the credit needs to go to Michael Kidd-Gilchrist.
Gilchrist doesn't get outworked by anyone in terms of effort. Jones' weakness has always been an inconsistent ticker.
However, maybe Gilchrist is exactly what was necessary for Jones to fulfill his potential, the one that could have him at or near the top of June's NBA Draft.
The reports were that the No. 1 freshman in the country, 6-foot-11 Anthony Davis, was the one given the task of trying to contain Jones.
Davis put up 27 points and 13 boards in the scrimmage, but it'll still take some time for him to acclimate himself to the college game.
Fellow frosh Kidd-Gilchrist finished with 21 points and 10 rebounds while Marquis Teague had 19 points and nine assists and Kyle Wiltjer went for 27 points and 11 boards.
Here's one reason not to put too much stock in an intrasquad scrimmage: Eloy Vargas had 16 rebounds.
Photo: AP