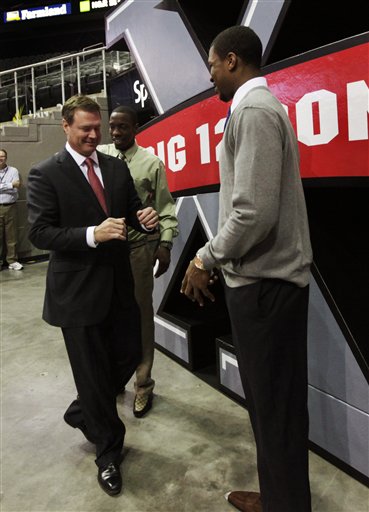 By Jeff Goodman
Bill Self looked in a team photo from a couple years ago. How times have changed.
That was when he redshirted Mario Little and Travis Releford because there was such an excess of talent and depth that neither figured to earn enough time. Now the sixth and seventh men in the rotation are walk-ons Justin Wesley and Connor Teahan - who Self has given a scholarship. If Little were still here, he'd probably be getting 35 minutes a game.
Self understands that no one feels bad for the Jayhawks - and he doesn't want that, anyway. He still maintains he has two of the elite players in the nation at their respective positions in Thomas Robinson and Tyshawn Taylor - and that his starting five will be able to stack up against anyone.
"We've got two pros," Self said. "Tyshawn's so good. The light has come on and the game's in slow motion for him. There aren't five better point guards."
"And there aren't five better big men than Thomas," he added. But the depth is another story. Kansas had three signees deemed ineligible to play this season: Ben McLemore and Jamari Traylor (who have both remained on campus as partial qualifiers) and Braeden Anderson, who has since elected to attend Fresno.
The 6-foot-8 Wesley is a transfer from Lamar and Teahan is a fifth-year senior who hasn't exactly played meaningful minutes in his Jayhawks career. Both will likely be rotation guys.
"We need to stay healthy," Self said. "And be junkyard dogs."
And that's likely why he's being cautious with Robinson, who bumped knees in practice and will likely be held out for a couple of days.
"In practice, I've never had to worry about injuries," Self admitted.
The key to whether the Jayhawks can continue their Big 12 dominance will likely come down to the development of guards Elijah Johnson and Releford - and the health and production of 7-footer Jeff Withey. Self raved about Johnson - which is a change from his thoughts on the talented guard from a year ago - and also said that he'll need newcomers Kevin Young and Naadir Tharpe to give him quality minutes. "I like my guys," Self said. The issue, though, is whether he has enough of them.
Photo: AP