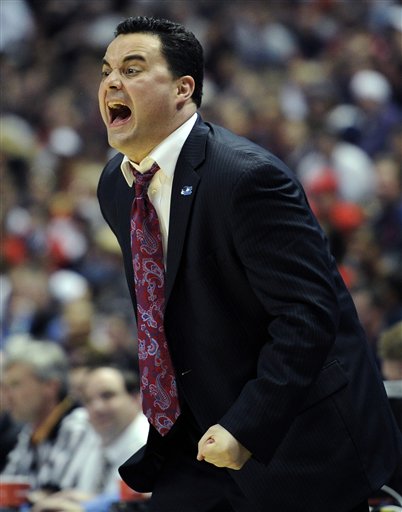 By Jeff Goodman
The place not to be this weekend? McKale Center in Tucson, Arizona.
That's where Arizona coach Sean Miller crushed his players after a loss to Division 2 Seattle Pacific on Thursday night.
However, a few days after the somewhat embarrassing setback, Miller gained some perspective.
"No one wanted to lose, but in a funny way I think it'll help us," Miller said on Sunday night. "We've got to earn it all over."
"Guys are in different roles," he added.
Without Derrick Williams, this is a completely different team - and while the Wildcats did welcome in a stellar freshman class, it'll likely take time for most of them to adjust. Despite their preseason ranking, this is not a Top 25 team right now. Not this early - and not without Kevin Parrom.
The only one who stood out in his debut was athletic guard Nick Johnson.
"He was the bright spot," Miller said of Johnson.
Fellow freshman guard Josiah Turner - the most highly touted of the frosh - struggled. Miller said that could be the case early because Turner had a rough senior season in high school in which he switched schools.
"He didn't come off a good situation, but did the best he could," Miller said. "Don't be surprised if Josiah struggles early in the season and plays his best basketball later in the year."
Not only is Arizona without Williams, but the Wildcats are also without Parrom - who is recovering from being shot in the leg.
"I'd be surprised if Kevin's back in November," Miller said. "It's probably realistic that he returns in December. He's getting more and more movement and has been doing as well as anyone could expect after the loss of his mother."
Miller said that fans will need to be patient with other two freshmen - big men Sikidi Johnson and Angelo Chol. Veteran big man Alex Jacobson, who would likely play minutes right now due to the inexperience of Johnson and Chol, is also out with an injury.
Photo: AP