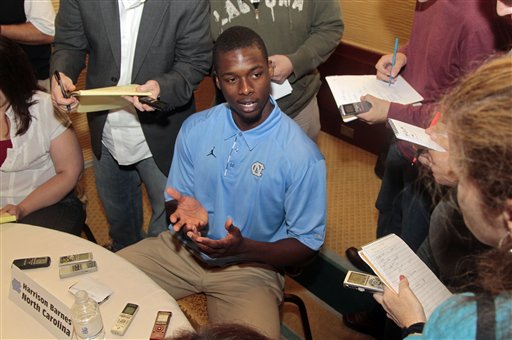 By Gary Parrish
Vote for an All-American team, you had to do two things:
Put Jared Sullinger on it.
Put Harrison Barnes on it, too.
After that, do whatever you like. Jordan Taylor, Tu Holloway or Kendall Marshall can be your point guard. You can take any combination of Terrence Jones, Anthony Davis, Perry Jones, Thomas Robinson and John Henson as your bigs. You can have John Jenkins or Austin Rivers as your scoring guard. You can use Jeremy Lamb and have two guards, two wings and a big. Anything within those guidelines is reasonable. But omitting Sullinger or Barnes is indefensible.
So guess what happened when the AP released it's All-American team on Monday?
It was revealed that two voters didn't have Barnes on their ballot.
I mean, he's still an AP All-American.
(The team is Taylor, Lamb, Barnes, Jones and Sullinger.)
But Barnes only received 63 of a possible 65 votes, which means two people who supposedly cover college basketball for a living didn't vote for the most talented player on the nation's most talented team despite the fact that Barnes averaged 24.7 points in the ACC tournament, 21.0 points in the NCAA tournament and 21.5 points over UNC's final 10 games. Yes, he got off to a slow start last season, but that was in his past by mid-February. The 6-foot-8 wing played like a star down the stretch, even got 40 in a win over Clemson, and there's no intelligent way to defend not including him on an All-American ballot.
But I'm willing to listen.
So if you're one of the two AP voters who didn't include Barnes, show yourself.
We'll give you space in this blog to explain the omission.
I wish you luck in advance.
Photo: AP