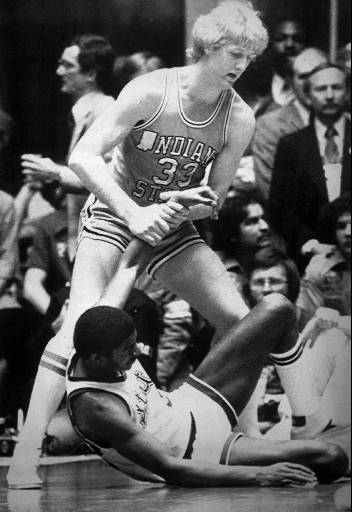 By Matt Norlander
One of college basketball's greatest stories is headed toward Broadway. Not only that, but an opening date has been bookmarked and an open-ended run is the vision going forward.
Producers of the musical that will tell the story of Magic Johnson and Larry Bird are aiming for a mid-March 2012 opening,
according to Sporting News
, which cites Playbill.com.
The play won't just deal with the epic, sport-changing 1979 title game between Michigan State and Indiana State -- it will cover the career arcs of Johnson and Bird, with that '79 champ game serving as a first act, I'm assuming.
There will be a first preview on Feb. 27. The producers, Fran Kirmser and Tony Ponturo, were also behind Lombardi, the show about legendary Green Bay Packers coach Vince Lombardi. Ponturo is formerly the sports marketing head at Anheuser-Busch. The 95-minute Magic/Bird will have an open-ended run, according to Playbill.com.
The casting process has begun. I have to agree with
Mike DeCourcy
in regard to one thing. Who better to play the role of Magic Johnson than former
Michigan State player-turned-actor
Delvon Roe? Can he sing? I don't care -- get that man into a vocal booth now and start teaching him how to use his diaphragm, dammit.
Other roles to fill will include Red Auerbach, the famous former Celtics owner, Michael Cooper (seriously? I mean, cool, but of all people:
Michael Cooper
?), Larry Bird's mom, and ... apparently Magic Johnson's agent. Has Rogers
or
Hammerstein been consulted about any of this? Apparently the NBA has; it's involved in the project, which might mean the musical doesn't begin until November of 2012.
My song suggestions would include:
Bye, Bye, Larry Birdie
Magic Johnson Superstar
If I Were a Big Man
With One Shot
There's No Business Like the NBA (Because Look at What's Happening Now)
Don't Cry for Me, Indiana
I Don't Know How to Guard Him
I've Grown Accustomed to His Passing Ability
Chuck Be a Lady Tonight
Photo: AP