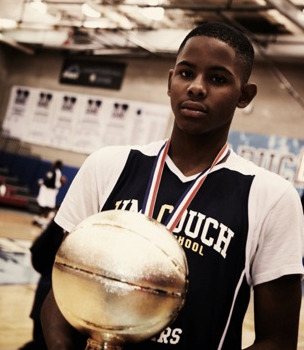 By Matt Norlander
I view the recruitment and evaluation of 12-year-old boy basketball players the same way I do giving candy to a high school senior on Halloween. It's wrong, unethical and the parents are surely to blame for it coming to this.
And I have to add the obvious: Organizing national talent-evaluation events/games/trophies for middle schoolers is bleeping creepy. You know it is. You
know
it is. Sometime in the past decade, that line has been scrubbed away by coaches desperate to keep their jobs, parents desperate to get rich off their children, and middle men disguised as community leaders, working toward an endgame that involves a relationship well after these kids (KIDS) leave college.
Deadspin.com's Emma Carmichael recently attended
one of these weekend supercamp events, wherein she saw some of the nation's supposedly best future prospects in hoops. Within the walls of
Baruch College's
gym, a healthy and naive cluster tweens and teens, who've already been contacted in some way by major programs, played their still-growing hearts out. One player, KeJuan Johnson, perceived by some as the No. 1 prospect in the 2015 class, has already been asked to verbally commit to Kentucky.
That kid can't even verbally commit to brushing his teeth tonight.
But Johnson's already in high school, and I've no real issue with full-blown evaluations of freshmen. There's a nebulous changeover once a kid formally becomes a ninth-grader, but I get it. There are a lot of issues to deal with there, but I get it.
However, the Jim Couch Foundation also held games for boys still dreaming about the goal of taking the next step in education one day. Yep, moving on ... to high school. Middle-schoolers.
Oh, it's tawdry
, all right.
Today's JCF event also features a middle-school all-star game. While the 13- and 14-year-olds take over the main floor, the freshmen move to the auxiliary gym across the hall for more of their regimen. Over the hollow sucking noise of the air ducts, a team of coaches shouts drill directions. The players jump one-legged from orange cone to orange cone and high-step over mini hurdles. At center court, they stand on a flat-bottomed exercise bubble. Without falling over, they must hold a basketball in triple-threat position while a coach slaps it with boxing pads.

There aren't many people sitting in this gym's narrow stands, but next to me is an older white man in a sweater and loafers, writing notes on a single piece of paper tucked inside a folio. At the top he's written "EVAL," and underlined it. I read the first line: "#11 - white." He's referring to Andrew Fleming, a kid from Tennessee who is white. It is the least debatable assessment I'll encounter all day.

After 45 minutes of drills, a representative from the Knicks' community outreach program hands out blue and white jerseys for the game. Couch says they've been donated by anonymous benefactors. This adds to the vaporous quality of the whole Junior Big-Time operation. All day, the parents of the proto-prospects will say they're not thinking about colleges just yet, and the coaches and organizers and trainers will declare that they're only doing it to help the kids.
Nevermind the fact that nearly every human being in that gym should've probably been doing something more effective with an October weekend in front of them, the insistence that this is for the benefit of the kids will increase in fraudulence as the years go forward.
Those involved in this, particularly the parents and organizers, love to claim it's a grassroots effort to cultivating teamwork and a sense of self for these kids. The process is anything but organic. That kind of development should come the way it did for 50 years: with a kid dominating over other 12-year-olds in gym class, then arriving in high school and letting the process take its natural -- if influenced and flawed -- course from there.
Jerry Love, who owns and operates MiddleSchoolElite.com -- a site whose existence I only offer up for context, not for linking, because I feel like I've hacked into an FBI investigation document upon looking at it -- is quoted in Carmichael's story. He's moved his family, including his son, Jerron, who Jerry ranks among the best prospects for -- God, I don't even want to see what year this is -- 2016, out to California. It's for the purpose of getting Jerron more exposure, and leaving an area where the Love family became alienated over Jerry's ranking practices.
He wants a fresh start, so he's uprooted his maybe-really-talented kid.
Carmichael's kicker is terrific and sad and poignant.
Jerron, who played a consistent but not spectacular game—6 points and 4 assists, one turnover on a failed between-the-legs pass on a fast break—tells me that he likes California, even though "it's a big change" from the Bronx. He's incredibly composed; it's clear that he's had a tape recorder in front of him before.

When I ask him his height, he corrects his posture and stands up straight. He's 5-foot-9, but his doctor has told him he'll be 6-1.

"6-2, hopefully. I haven't balanced out yet. Gotta be careful about what I eat. I'm somewhat careful. But I'm still a kid, you know?"
I know. His father knows. Everyone involved in middle school recruiting knows they're just kids. But where's the evidence that organizers and cultivators care?
Photo via Deadspin, Steven Counts