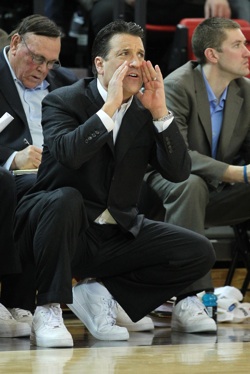 St. John's won its opener without Steve Lavin on the sidelines, and it still remains unclear on when he will return.
Lavin is currently at home recovering from prostate cancer surgery on Oct 6.
"He's starting to get back to normal," Gene Keady said after Monday night's game against William & Mary. "He laughs a lot now. He walks a lot. He's making some progress about getting back to a normal life."
Keady, the former Purdue head coach, was brought on last year as a special assistant to Lavin. Assistant coach Mike Dunlap, known for his X's and O's acumen, has taken over head coaching duties with Lavin out.
There is no set return date for Lavin to come back to the St. John's bench, although some have been pointing to early December as the timetable.
"It's basically when he wants to," a source told CBSSports.com. "When he feels ready."
St. John's faces Arizona on Nov. 17, then the championship or consolation game of the 2K Sports Classic. The Red Storm also head to Kentucky on Dec. 1 as part of the SEC-Big East Challenge.
Lavin went 21-12 in his first season with St. John's, leading the Red Storm to the NCAA tournament for the first time since 2002. He also signed one of the top three recruiting classes in the country.
Photo: US Presswire