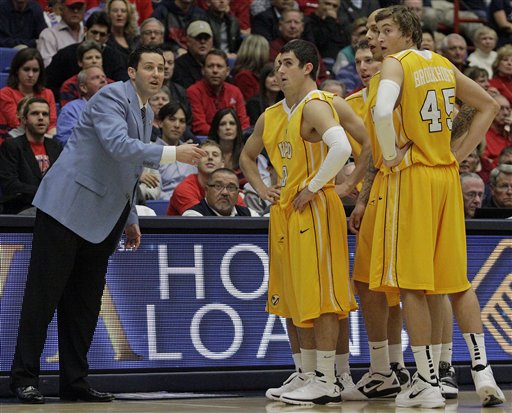 By Matt Norlander
In a formal setting, last night was not the first time Bryce Drew had ever acted as a head coach. During Valparaiso's foreign trip in 2010, father (Homer Drew) let son run the team. It was prep for the job he'd have one day, even if both men weren't sure when or if they would certainly happen.
Monday night, the college basketball season began, and Bryce Drew was labeled in the scorebooks for the first time, officially, as a head coach. His Valpo team fell 73-64 to No. 16 Arizona, at Arizona. Drew wore that dapper jacket as means of tribute. That hue of blue is the official color of the fight against prostate cancer—exactly in the way pink has become synonymous with battling breast cancer—and so Drew wore it to honor his father, who is battling prostate cancer; his mother, who is battling bladder cancer; and the Coaches vs. Cancer tournament, which Valpo is coincidentally a part of this season.
The assistants wore light blue ties. Drew wanted to get the team to wear light blue undershirts to go with the uniforms, but apparently they didn't all get the right sizes, so the squad will don that look in its first home game next week. The school will also be selling the shirts to raise money in the fight against cancer.
Finding that specific kind of jacket was a tough task. Drew said folks in the program eventually corralled one via online purchase. As for his family, "They're both doing a lot better," Drew said. He talked to Homer before and after the game.
"They really wanted to be here, but couldn't make it so they had to watch it back home," Drew said. "It's nice to have my mom and dad both be at home now."
He wasn't nervous either. Said with all the prep and march on toward the first night of the season, it was more focus, then excitement just a few minutes before game time. Outside of the shirt-size mishap, Drew said the game and experience as head coach didn't offer up any surprises. The 37-year-old coach was most impressed by Arizona's quickness, specifically at guard.
"Yeah, they are so quick. I love their two freshmen guards, (Nick) Johnson and (Josiah) Turner," he said. "I think they're going to be very good for them this year."
But what about Arizona's primary weakness? Sure it's a ranked team right now, but I and many others see some flaws with this group. Drew's take: "I think he (Sean Miller) needs to get those guys experience. He just has a lot of young guys that need playing time. As a coach, we try to speed that process up, but it takes time."
Valpo hung around with Arizona for most of the first half; Drew said a stretch in the second half that was rife with turnovers is when it got away from his guys.
"When you play a team like that you don't have a large margin of error," Drew said. "But we fought through, and I want to say the last six minutes we outscored them by 11. And also, the second [weak area] for us was our 3-point shooting. We didn't shoot the way we wanted to."
Drew said his team won't be 3-point-minded this year, that it will always look to adjust on offense to what the defense is providing. After the game, he spoke with his dad, and it was casual, he said. Wasn't this big thing or huge conversation. The day had finally come for Bryce to take the reigns from Homer. Mom and Pop always in mind, he's now officially started manning the program his way.
Photo: AP