By Jeff Goodman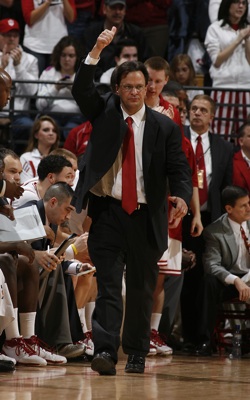 Indiana coach Tom Crean has waited nearly 1,100 days for this.
Sure, the Hoosiers signed the youngest of the Zeller brothers, Cody, a year ago - and while he was unquestionably the most important piece of Crean's semi-recent recruiting success, he was just that.
A piece.
Today marks what could be the return of IU basketball.
Crean will have a trio of Top 50 kids ink in the Class of 2012: Kevin "Yogi" Ferrell, a point guard who should have the ball in his hands the day he arrives in Bloomington; Hanner Perea, an athletic power forward who was coveted by no shortage of high-major schools; and Jeremy Hollowell, a 6-foot-6 scorer.
This could be the group that ultimately saves Crean his job.
Ferrell is the most critical piece that Crean will bring in and not just because of his ranking. No disrespect to Verdell Jones, but Ferrell is a major upgrade at the point guard spot. In fact, he's the second-highest rated floor leader in the nation (behind Providence-bound Kris Dunn).
Perea is something that Indiana doesn't have: a physical, hard-playing athlete on the frontline that will run the court, rebound the ball and block shots.
Hollowell is an enigma due to his inconsistent effort, but at worst case he'll give Crean depth at the wing.
Arizona's class may be ranked higher, but no one needed the Class of 2012 more than Crean and Indiana.
It's a program that has been in a state of rebuilding since the day Crean took over and while some expect the Hoosiers to take a step forward this season with the addition of Zeller, it's unlikely that Indiana makes any noise nationally.
But that could change a year from now.
Crean didn't just go out and get any three players, either. Ferrell and Hollowell are in-state kids - and Perea, who hails from Columbia, has been at a prep school in Indiana for the last couple years.
He's making strides to do what the head coach in Bloomington has no choice but to do in order to make IU a national player again.
Lock down the state - or at least make it cool to play at Indiana again.
Crean has struggled to gain any on-court momentum in his first three seasons in Bloomington - so much so that many - including myself - have speculated that Butler's Brad Stevens is waiting in the wings if Crean doesn't soon make progress.
The Hoosiers should take a step forward this season on the court - but today was the most significant step that Indiana has displayed in the Crean Era.
Photo: US Presswire