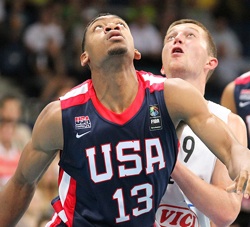 North Texas kicks off its season against St. Gregory's tonight, but the Mean Green's season won't really start until December 18.
That's when freshman Tony Mitchell becomes eligible.
"Everybody's talking about it," Mitchell said by phone.
"We're excited about that date," head coach Johnny Jones added. "It will be an exciting time for us."
While not playing at one of the BCS-conference schools, Mitchell will be one of the biggest impact freshmen in the country. He originally signed with Missouri out of high school, but the five-star prospect was ruled a partial qualifier due to questions about his transcript and test scores.
Since the Big 12 does not allow partial qualifiers, Mitchell decided he would rather go to another four-year college and sit out as opposed to junior college. North Texas was on Mitchell's final list before he chose the Tigers – and the Mean Green allow partial qualifiers.
Jones had pursued Mitchell throughout his recruitment, and even welcomed him on campus for an official visit before he chose Missouri. For the Dallas native, it was an easy option.
"It's basically like Missouri, with the family atmosphere," Mitchell said. "It was a no brainer."
Mitchell hasn't been allowed to practice with the team since arriving at North Texas, but he's been working out with his trainer to refine his game and expand his skill set. Moreover, he made the U-19 USA team that played in Latvia this summer.
The 6-foot-9 Mitchell led the team in rebounding (7.6) and blocks (1.8) per game, also contributing 5.0 points a contest.
"It was a very exciting, fun experience," he said. "I just wanted to make my presence felt, make sure everyone hasn't forgotten about me. I just played, did what I did best."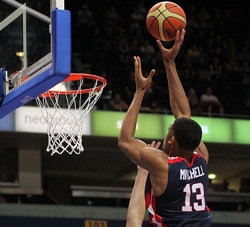 Mitchell said it's been difficult not to be able to play with his future Mean Green teammates, but the time away from the court has allowed him to focus on things outside of basketball. He has concentrated more on academics – the reason he is at North Texas in the first place – and he has matured on and off the hardwood.
Because he has no teammates to rely on yet, Mitchell has needed to become more independent in terms of his work ethic and schoolwork.
"He's had to sit there and do some things academically on his own," Jones said. "Because of his set back, it's helped him in a sense. He had to apply himself in a different way. He's really grown."
"I'm basically being a college student," Mitchell added.
North Texas went 22-11 last season, losing on a last-second shot to Arkansas-Little Rock in the Sun Belt title game. Moreover, the Mean Green lose the majority of last year's team, including their top four scorers.
There is certainly room for Mitchell to step in and contribute immediately – and Jones needs him to be a star right off the bat. Despite not working out with the team or playing organized basketball for the better part of 18 months, Mitchell will need to shake the rust off quickly.
"Tony can play in any conference, and that's how I gauge kids," Jones said. "He has the ability to come in and make people around him better."
CBSSports.com ranked Mitchell No. 16 among the freshmen entering college, because he should be able to come in and dominate the Sun Belt immediately. His talent along puts him on a different level than most players at the mid-major level.
Throw in the hunger and motivation of sitting out last season, and Mitchell is ready to get back on the court.
"I'm ready to make a huge impact," he said. "But you still have to prove yourself. I have to live up to the expectations."
North Texas is confident he will be worth the wait.
Photos: USA Basketball
More College Basketball coverage