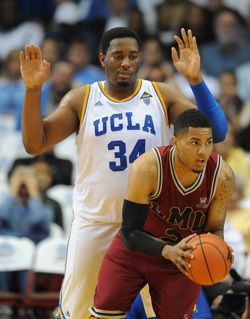 Not only did UCLA lose by double digits at home to Loyola Marymount last night, Bruins center Josh Smith apparently thinks the Lions are not very good at basketball.
Following UCLA's 69-58 defeat, Smith tweeted: "Just lost to some straight bums lol…" The tweet has since been taken down, but Rob Duaster at Ballin' is a Habit made sure to save it.
Last year, Loyola Marymount struggled through an injury-plagued season, going just 11-21 overall and 2-12 in West Coast Conference play. However, with most of their players healthy – Drew Viney didn't play – the Lions were able to knock down 67 percent of their 3-point attempts en route to the victory.
Smith, who has problems with his weight and consistency in the past, came off the bench to rack up five points, four rebounds and three fouls in 16 minutes. Considering he was supposedly playing against "straight bums," it looks like Smith hasn't matured much from last season.
UCLA has a fairly young team this year, and Smith was expected to take a big step from last season. When healthy and in shape, Smith is one of the most talented big men in the country. However, that hasn't happened too often before.
Smith finished last season with a bang, but bringing it every night was an ongoing issue. He picked up three fouls in 23 of 33 games last season, and only averaged 21.7 minutes due to conditioning.
If Smith wants UCLA to make a run to the NCAA tournament this season, he needs to mature on and off the court.
The Bruins face Middle Tennessee State next; I wonder what Smith thinks of them.
Photo: US Presswire
More College Basketball coverage