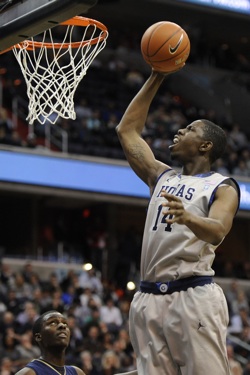 Henry Sims has always shown flashes of his potential in the past, but he's never been able to consistently produce on a nightly basis down low for Georgetown.
Could that change this season?
Sims led the Hoyas with a career-high 19 points in their 83-54 victory over Savannah State on Saturday. He looked a lot more aggressive offensively than last year, making solid moves with his back to the basket and finishing in a variety of ways at the rim. Sims was able to carve out space on the low block and be a consistent option. Moreover, he was able to pass out of double teams when necessary, which was effective in Georgetown's offense.
With such a young team this season – Georgetown has 10 freshmen or sophomores on the roster – Sims will need to be one of the leaders for the Hoyas. He is one of two seniors, and there are plenty of points to be replaced with Austin Freeman, Chris Wright and Julian Vaughn all gone from last season.
Sims averaged just 3.6 points and 3.2 rebounds last year, with just two double-figure scoring games to his name. There have been games like the one he had today, though, where he looked like he was ready to be a consistent factor. Sims had 12 points and five assists against Loyola (Md.), and 10 points and seven boards against Missouri. He also racked up 12 points during his sophomore season against American.
Was this just another isolated performance from the 6-foot-10 center, or is Sims ready to become a major contributor for John Thompson III?
If the Hoyas are going to make a run towards the NCAA tournament, Sims will need to be a go-to-guy down low. Today can't be the highlight of his season.
Photo: US Presswire
More College Basketball coverage