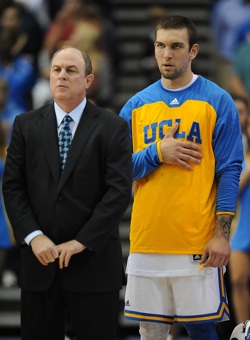 Considering it's only November, most thought things at UCLA couldn't get much worse after the Bruins lost to Loyola Marymount and then Josh Smith so kindly referred to the Lions as "straight bums."
Apparently, things could definitely get worse.
Reeves Nelson, the team's leading scorer and rebounder last season, is meeting with head coach Ben Howland Monday afternoon to discuss his future with the team.
"I still take it as he's part of the team," Smith told the Los Angeles Times. "I've talked to him, but there's not really any information to tell me where he's leaning. I want him to stay."
When asked if Nelson would suit up for the Bruins on Tuesday night against Middle Tennessee State, Howland was noncommittal.
"I can't comment any further until I sit and talk to him," Howland said.
According to the newspaper, Nelson was visibly frustrated during the loss to Loyola Marymount in the opener. He finished with 13 points and eight rebounds in the defeat.
Photo: US Presswire