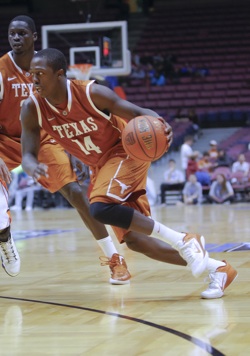 EAST RUTHERFORD, N.J. – J'Covan Brown's reputation has always preceded him in the basketball world.
During high school and on the AAU circuit, Brown's behavior garnered more attention than his tremendous basketball talent. Through three games this season with Texas, though, he seemed to be shaping up. He was averaging better than 29 points per game – tops in the country – and had kept his head straight.
Monday's loss to North Carolina State brought his reputation back to the forefront.
He scored 17 points and dished out seven assists to help propel Texas to an 18-point lead in the second half. That's when it went downhill. Brown picked up his fourth foul, complained to the referee and subsequently received a technical foul – his fifth foul of the game.
"I'm mad I made that mistake but I have to put it behind me," Brown said. "I can't put the team in that type of situation."
The Wolfpack responded by going on a 25-9 to end the game and escaping with a three-point victory.
"When one of your older players does that, it hurts," head coach Rick Barnes said. "That's where he needs to grow up. You can't do that."
"That was a game changer," NC State coach Mark Gottfried added.
This young Texas team has been searching for a leader. As the Longhorns' best scorer and one of their most veteran players, Brown needs to be the guy the freshmen look to late in games.
Unfortunately, the only place he could be found down the stretch was on the bench.
"It's not about him; it's more than scoring points and getting assists," Barnes said. "He ought to have it figured out by now. He's working hard, but there's a mental side to it."
Meanwhile, Brown's counterpart, Lorenzo Brown, decided to step up in his absence and lead North Carolina State to a victory.
In the last eight minutes, Brown racked up eight points, one rebound, two assists and one block.
"He did make a couple big plays late," Gottfried said.
Brown's increased aggressiveness at both ends of the floor late in the game helped spur the game-changing run after J'Covan Brown was disqualified. While J'Covan Brown may have won the box score, Lorenzo Brown won the game.
"Just us being down by that much and coming back shows a lot about us," Lorenzo Brown said after the game.
J'Covan Brown does have a chance to salvage his reputation and change the minds of people who have watched him or covered him for several years. His personal cheering section in high school or his propensity to get thrown out of games might be hard to forget, but he has the talent to do it.
Maturity aside, Brown is one of the top playmakers in the country.
"He sliced us up like a side of fries," Gottfried said. "We'll look back and agree he's one of the better guards."
While the Wolfpack might remember Brown as a high-level talent, they'll also remember his technical foul in a losing effort.
And therein lies the problem.
Photo: US Presswire