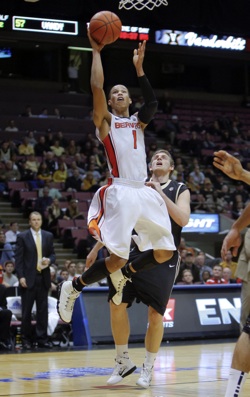 EAST RUTHERFORD, N.J. – The year before Craig Robinson took over the Oregon State program, the Beavers went winless in the Pac-10 conference. They were the worst BCS-conference team in the country – by far.
An up-and-down four years later, Robinson's troops might be ready to contend for an upper-division finish in the Pac-12.
"He's obviously brought that program along," Vanderbilt head coach Kevin Stallings said. "We have a lot of respect for them."
This was basically unthinkable as recently as last season, when the Beavers lost 13 of their final 16 regular-season games en route to another disappointing campaign.
Despite the two-point loss to the Commodores on Monday night in the championship game of the Legends Classic, the attitude has changed for Oregon State.
"As a coach, this is the first time I've wanted to be on a team," head coach Craig Robinson said. "I want to be a player on this team."
As we've seen, the Pac-12 is certainly not the cream of the crop in terms of conferences this season. Arizona is not there yet; Washington was just dominated by Saint Louis; UCLA is a complete disaster; and Oregon just lost potentially its best scorer.
California looks good early on, but the rest of the conference standings appear wide open. Why can't Oregon State work itself in the mix?
With the way Jared Cunningham is playing, the Beavers have as good of a go-to-guy as anyone in the country. He's long, athletic and really gets after it at both ends of the floor. He's the type of star that could separate Oregon State from some also-rans down the road in conference play.
"He was certainly impressive," Stallings said. "There are only a few people as athletic as [Jeff] Taylor, and he might be one of them. He's got great body control, and he's always looking for steals."
"He affects a game even when he's not scoring 35," head coach Craig Robinson said. "He's a marked man now."
Ahmad Starks is a gutsy playmaker who can make shots, and sophomore Devon Collier is budding into a very capable post player. Collier is averaging 20.3 points and 5.7 rebounds in his last three games.
The key could be Eric Moreland, a redshirt freshman who transferred in from UTEP. He's shown flashes of his potential throughout the season, getting a double-double in the season opener and going for eight points, eight rebounds and three assists on Monday night.
"I thought he was great for them," Stallings said.
The Beavers get to the free-throw line as well as anyone in the country; are very efficient from inside the 3-point line; and force turnovers at a high rate. In a down Pac-12, it's not hard to envision this team making a move up the standings.
"The biggest difference is team camaraderie," Starks said. "We're all playing for each other."
In a couple of months, though, the Beavers could be playing for a NCAA tournament berth.
Photo: US Presswire