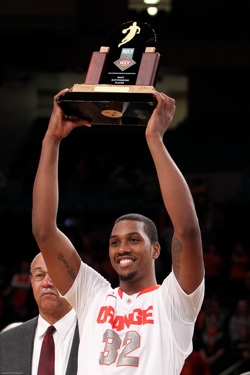 NEW YORK – Syracuse was in trouble, and it was searching for help.
After an Anthony Brown dunk put Stanford up by seven with fewer than seven minutes remaining, the Orange looked lost.
In their previous three plays, Scoop Jardine threw an ill-advised alley-oop pass in traffic; Dion Waiters pulled up from 3 with 30 seconds left on the shot clock; and Jardine threw a pass that hit Kris Joseph in the back of the head. The Orange needed someone to take the reins, and no one seemed capable of filling that void.
In stepped Kris Joseph.
The senior forward hit a tough fadeaway jumper, and then made two lay-ups after Stanford turnovers. A 3-pointer from the wing capped nine straight Syracuse points for Joseph, bringing Syracuse to within four.
Down by one, Joseph banked in a baseline jumper to give Syracuse a lead it would never relinquish. He also had the game-clinching steal and free throw in the final 22 seconds.
"It's all about heart at that point, in the last six minutes of the game," Joseph said after the game.
Heading into the season, most looked at Syracuse's balance and plethora of offensive options as a strength. While it is an advantage in most cases, when Stanford had all the momentum in the second half, the Orange needed someone to step forward. Jardine tried, Waiters tried and Brandon Triche was inconsistent.
Moreover, Joseph was invisible for most of the contest, shooting 3-for-11 before his late-game performance.
"We tried to contain him, limit his touches," Stanford head coach Johnny Dawkins said. "He hit tough shots. He finished plays around the basket through contact, as good as any young man I've seen."
Joseph, who scored 20 points in the semis and finished with 18 points and nine rebounds in the championship game, won Most Outstanding Player of the NIT Season Tip-Off.
"He did the things we needed him to do," head coach Jim Boeheim said.
Syracuse didn't look like an elite team for its two games in New York this week. The Orange struggled offensively in both games, which were way more competitive than expected. They turned the ball over too much, and they didn't assert their size effectively on the glass or in the paint.
Without Joseph stepping up in the final few minutes, Syracuse would have left New York with a loss to a Stanford team that isn't projected to be a Pac-12 contender. People are already questioning the power of the Big East this season, and a loss by the Orange would have cemented most of those thoughts.
In order for Syracuse to be an elite team with Final Four aspirations, Joseph needs to be the team's go-to-guy on a more consistent basis. He disappears for stretches, and doesn't always look like he wants to be the star.
"I don't think he's close to in shape, but he's a very good player," Boeheim said. "I envision him getting better as he goes along."
Syracuse has plenty of scorers and players who can make an impact at various points in the game. However, during end-clock or end-game situations, the Orange need someone to step up.
On Friday, Joseph proved he could be that guy.
Photo: US Presswire