Welcome back to "Following the Frosh." For now, we're just tracking the top 20 players in the class of 2011 according to Scout.com, but beginning next week, we'll have our own top 10 rankings, along with some sleepers and other noteworthy performances.
Freshmen are still going strong across the country. Several of the five-star prospects continue to post impressive numbers for successful teams, and only one or two seem to be fading after a strong start.
1. Anthony Davis, Kentucky: 12.7 ppg, 8.2 rpg, 4.3 bpg
His matchup against John Henson on Saturday should be great. It's a major test for Davis, as Henson can match his length.
2. Andre Drummond, Connecticut: 8.1 ppg, 7.0 rpg, 2.9 bpg
Drummond continues to make more of an impact on the inside for the Huskies. That free-throw form is hideous, though.
3. Austin Rivers, Duke: 14.4 ppg, 2.1 apg
There are still plenty of people pointing out the negatives about Rivers (me included), but he continues to score.
4. Quincy Miller, Baylor: 15.2 ppg, 5.6 rpg, 2.4 apg
Miller's numbers dropped a bit in the past week, but he still will pose a matchup problem for most defenders in the Big 12.
5. James McAdoo, North Carolina: 6.5 ppg, 3.5 rpg
McAdoo is instant offense off the bench for the Tar Heels on the inside. Has nabbed three steals twice this season.
6. Michael Kidd-Gilchrist, Kentucky: 12.5 ppg, 7.3 rpg
Gilchrist continues to fill up every category on the stat sheet. Will help defend Harrison Barnes on Saturday.
7. Brad Beal, Florida: 16.0 ppg, 5.8 rpg
Beal won the SEC Rookie of the Week award, after averaging 17.5 points and 7.0 rebounds in two wins for the Gators.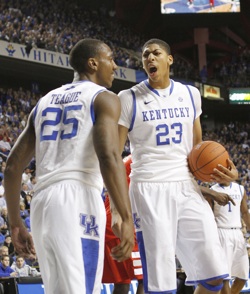 8. Marquis Teague, Kentucky: 11.7 ppg, 4.0 apg, 3.3 TO
Teague looked better last week when it came to decision-making. His assists are up and turnovers down. Will continue to get better.
9. LeBryan Nash, Oklahoma State: 10.4 ppg, 4.4 rpg
Didn't score or grab a rebound against Virginia Tech on Friday. Needs to work hard on a consistent basis to reach his potential.
10. Adonis Thomas, Memphis: 10.3 ppg, 2.5 rpg
It was an up-and-down week for Memphis in Maui, and Thomas exemplified that. Had 19 in a win, and 10 points total in two losses.
11. Myck Kabongo, Texas: 8.4 ppg, 3.2 rpg, 5.2 apg
Kabongo's numbers look good, but he needs to stay under control and create offense better. Looked passive down the stretch vs. NC State.
12. Kentavious Caldwell-Pope, Georgia: 13.3 ppg, 5.0 rpg
Caldwell-Pope is a volume shooter, plain and simple. But he needs to improve his accuracy if Georgia is going to win in the SEC.
13. Cody Zeller, Indiana: 14.8 ppg, 7.7 rpg, 2.7 spg
Zeller finally missed a few shots last week, but the Hoosiers continue to roll. Zeller had 16 and eight in the 16-point win over Butler.
14. Branden Dawson, Michigan State: 8.2 ppg, 4.3 rpg
Dawson has been effective when he gets chances, shooting 60 percent from the field and rebounding well. Still figuring out his role.
15. Khem Birch, Pittsburgh: 5.2 ppg, 5.5 rpg, 2.3 bpg
Birch had one of the better weeks of any freshman. Out of nowhere, he averaged 11.5 points, 10.5 rebounds and 4.5 blocks in two wins.
16. Josiah Turner, Arizona: 6.6 ppg
Turner reached double-figures for the first time this season, against San Diego State. As a point guard, he needs more than one assist, though.
17. Wayne Blackshear, Louisville: Injured
Scheduled to return in December or January. Cardinals need the depth.
18. Jabari Brown, Oregon: 6.0 ppg
Still looking for his next spot, after leaving the Ducks' program.
19. Tony Wroten, Washington: 12.8 ppg, 4.2 rpg, 3.8 apg, 2.2 spg, 4.4 TO
Wroten has been one of the better all-around freshmen this season, but he needs to cut down on his turnovers and make better decisions.
20. Rakeem Christmas, Syracuse: 4.0 ppg, 3.5 rpg
Only played seven total minutes against Virginia Tech and Stanford, not producing much after starting. Will provide five fouls and defense.
Photo: US Presswire