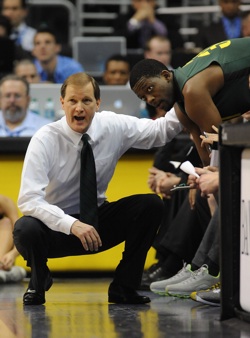 When Dana Altman took over the Oregon program in April of 2010, he was asked what it would take to be successful in Eugene.
"It's about players," Altman said at the time.
Well, where are those players?
With the news on Tuesday night that freshman Bruce Barron was leaving the team, six players have now departed the Ducks since Altman took over. Star freshman Jabari Brown left last week, and three players jumped ship in the spring: Martin Seiferth, Teondre Williams and Malcolm Armstead. Jamil Wilson transferred to Marquette in June 2010, two months after Altman took the job.
Moreover, aren't really bit players just being run off the team because they're not good enough for the Ducks. Brown was expected to be the team's go-to-guy this season; Armstead was the starting point guard last year; Williams was one of the team's top 3-point shooters; and Wilson was to see an increase in minutes his sophomore year. Barron was a freshman who had been on the team for one month.
"I want guys that want to be here," Altman told reporters after last night's win over UTEP.
From the looks of it, attrition was also something of an issue for Altman at Creighton. In his final years there, only Andrew Bock and Kenton Walker transferred out. Sources indicated there was indeed a high degree of turnover during his time in Omaha.
To the Ducks' credit, they seem to be playing well with the current roster. They went into Nebraska and beat the Cornhuskers last week, and defeated UTEP on Tuesday night. The talent is still there, as transfers Olu Ashaolu and Tony Woods are still finding their way up front. E.J. Singler, Garrett Sim and Johnathan Loyd are all putting up double-figures.
Even without Brown, Altman still has nine players playing at least 12.8 minutes per game.
"We've got guys that are committed to this team," Sim told reporters before the UTEP game.
It's difficult to get a grasp on why the players keep leaving Oregon under Altman, as the reasons vary. Moreover, the reasons aren't specific to Altman – it seems like typical transfer motives. Armstead left to move closer to home; Williams wanted to go back to the South; Seiferth wanted more playing time; Wilson missed his family and wanted to be closer to home; and Barron and Brown have been silent on the issue thus far. For the latter two, though, it's alarming that two freshmen would leave the program before December of their freshmen seasons.
On the surface, there aren't any outright complaints about Altman's coaching style. Last spring, though, Altman did express concern for all the personnel movement.
"It's more transition than we would like," Altman told the Eugene Register-Guard. "Players left for various reasons. You hope guys are in a situation where everybody likes where they're at, but it isn't always that way."
For Altman to turn around Oregon and get the Ducks back to the NCAA tournament, as he said 19 months ago, he's going to need players.
At this rate, though, he's not going to have any left.
Photos: US Presswire