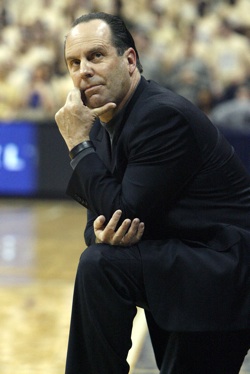 Back in 2010, when star forward Luke Harangody missed five games due to injury, Notre Dame drastically changed its offensive system.
Mike Brey's troops went from being an up-tempo outfit to a more methodical group, using the "burn" offense that slowed teams down and played a half-court game. The Fighting Irish started playing games with 55-60 possessions instead of 65-70, and subsequently went on a winning streak that sent them to the NCAA tournament.
While Tim Abromaitis was not the scorer and rebounder Harangody was, his ACL tear is still a huge loss for the Fighting Irish. That was evident on Wednesday, when Notre Dame was blitzed by Gonzaga en route to a 73-53 loss. With the increased defensive attention, Eric Atkins struggled, going 2-for-9 from the field with six turnovers. Scott Martin didn't make a field goal and the team as a whole was 2-for-14 from 3-point range.
Ignore the fact the Irish were 0-2 this season without Abromaitis (he was suspended by the NCAA for playing in exhibition games three years ago and then redshirting). They are clearly a much more dangerous team with him in the fold; he stretches the defense with his 3-point shooting ability and is also arguably the team's best rebounder. Moreover, he was one of two senior leaders on this team.
Without Abromaitis for the rest of the season, where does Brey go from here?
There's no Tory Jackson or Ben Hansbrough on this team, no one player that can put the rest of the team on his shoulders and carry them to wins. Everyone knew it would be a rebuilding season, even with Abromaitis. But with him on the team, there was a fighting chance for an NCAA tournament berth.
Brey still has some pieces. Atkins is a playmaker that can get to the rim and score, while Jerian Grant has been a promising asset during his first season on the floor (he redshirted last season). Freshman Pat Connaughton has shown a consistent ability to knock down outside shots, and Harangody clone Jack Cooley is a very efficient rebounder down low.
The key player going forward for Notre Dame will be Scott Martin. He's a versatile 6-foot-8 forward who has played multiple roles since transferring from Purdue and then injuring his ACL. He can knock down 3-pointers and also rebounds. In Abromaitis' absence at the beginning of the season, Martin stepped up, averaging 13.0 points and 5.3 rebounds in the first four games. However, on Wednesday night, he struggled immensely, going 0-for-6 from the field and scoring one point.
He needs to become a senior leader and help lead the young perimeter group into Big East play. While he's not as talented as Jackson or Hansbrough, he needs to be the player who lights a fire under this team without their star shooter.
It's going to be difficult, but there is still some time to figure things out before conference play.
As we all know, Brey has reinvented his team before.
Photo: US Presswire
More College Basketball coverage