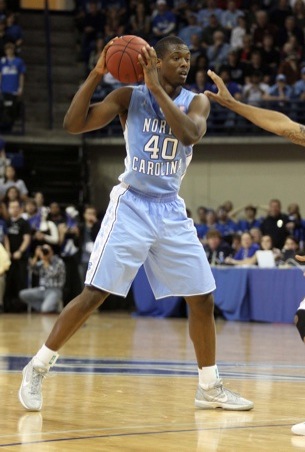 It's not No. 1 vs. No. 2, but it still features about 10 first-round picks and is certainly the "Game of the Year." Of course, we're talking about North Carolina vs. Kentucky, the showdown set for high noon in Lexington on Saturday.
North Carolina entered the season atop the polls, but a 10-point loss at UNLV dropped the Tar Heels back a bit. They haven't played to their potential just yet, but there's still plenty of time – starting Saturday. On the other side, Kentucky has looked every bit as talented as everyone thought they would be heading into the year. The Wildcats' best win is over Kansas, but they could really send a message against UNC on Saturday.
With all the talent on stage, let's go position-by-position.
POINT GUARD: Kendall Marshall vs. Marquis Teague
Two completely different point guards, both extremely talented in their own right. Marshall ranks second in the country in assists, notching at least 14 assists in three different games. The lefty doesn't push the ball like a classic UNC point guard, but he moves the ball in transition with the pass. Teague is very quick and athletic, but he's still adjusting to life as a college point guard. He has been taking care of the ball far better lately, but he can still improve his decision-making. EDGE: North Carolina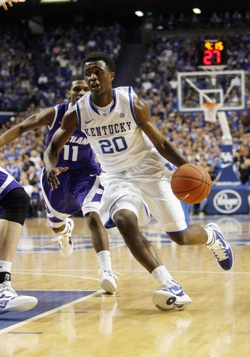 SHOOTING GUARD: Dexter Strickland vs. Doron Lamb
The two least-touted in the starting lineups, both play a key role nonetheless. Strickland is a very good defender who uses his length and athleticism to be effective in transition. He's also the de facto backup point guard when Marshall goes to the bench. Lamb is one of the best 3-point shooters in the SEC, knocking down 48 percent of his outside shots this season. He's also a solid distributor and playmaker who can go off the dribble. EDGE: Kentucky
SMALL FORWARD: Harrison Barnes vs. Michael Kidd-Gilchrist
Both were No. 1 high school prospects at some point in their career, and actually matched up as top prospects at the NBA Camp in 2009. Barnes has started better this season than he did last year, making a killing in the mid-range and also knocking down outside jumpers. Kidd-Gilchrist is a do-it-all player who makes things happen at both ends of the floor. He's a very good defender who uses his strength go get to the rim as well. EDGE: North Carolina
POWER FORWARD: Tyler Zeller vs. Terrence Jones
An interesting contrast of players. Zeller is a back-to-the-basket scorer who has a variety of post moves and gets to the free-throw line on a consistent basis. He's been up and down this year, not surpassing 12 points or seven boards in his last four games. Jones is playing some of the best basketball in the country, looking like a matchup nightmare for nearly every opponent. The lefty is excellent around the rim and in transition, but also has the ability to step out and knock down a three. EDGE: Kentucky
CENTER: John Henson vs. Anthony Davis
This is going to be fun. Two of the most athletic, longest big men in the country will go head-to-head with someone who can match up evenly. Henson is a tremendous shot-blocker, and is also a double-double threat every night out. He's improved his offensive ability this season. Davis is the best freshman in the country and the sure-fire No. 1 pick for the NBA Draft. He's an unbelievable shot-blocker as well, and uses his athleticism to make things difficult for opponents. He's also excellent in transition, running the floor extremely well. EDGE: Kentucky
BENCH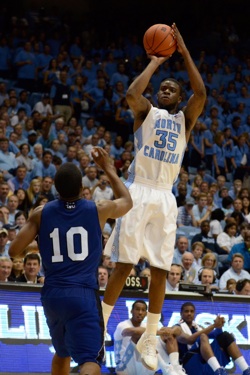 Both teams have impact players coming off the pine. North Carolina uses future lottery pick James McAdoo on the inside. He's athletic and can score in different ways. Reggie Bullock and P.J. Hairston are knockdown shooters with athleticism, although Hairston might miss the game with a sprained wrist. On the other side, Kentucky has experienced forward Darius Miller leading the way. He's a former starter and can do a little of everything. Kyle Wiltjer is an inside-outside threat, while Eloy Vargas gives post minutes. EDGE: North Carolina (if Hairston plays)
KEYS TO THE GAME
North Carolina:
Putting Strickland on Teague – Marshall won't be able to keep up with Teague, but Stickland is quicker and more athletic
Containing Jones – Zeller might not be able to guard Jones when he goes off the bounce, but can't let Jones dominate
Perimeter shots – Kentucky has plenty of trees around the rim, but the Tar Heels need to open up the defense by knocking down 3-pointers
Kentucky:
Second chances – North Carolina is susceptible to offensive rebounds, while Kentucky has the athletes to get points off put-backs
Taking advantage of matchups – It remains to be seen if UNC can keep up with Kentucky in transition; the Wildcats need to push it
Perimeter shots – Like UK, North Carolina has shot-blockers at the rim. The Tar Heels don't guard the 3-point line that effectively, though
BOTTOM LINE
There is going to be a ridiculous display of talent and athleticism on the floor come Saturday in Rupp Arena. There are interesting personnel matchups across the floor, as well as stars coming off the bench. John Calipari has his troops humming right now, while Roy Williams is still working out some of the kinks. Expect plenty of transition baskets and fast-break dunks. In the end, I think the home-court advantage could be enough for Kentucky – the Wildcats will continue to hit their stride.
Photos: US Presswire