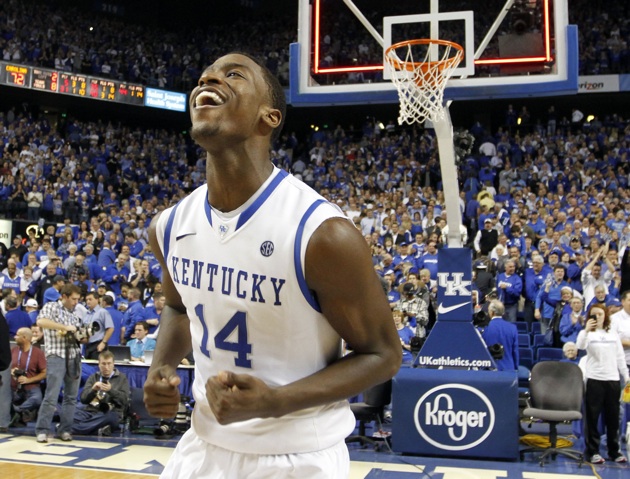 By Jeff Goodman
LEXINGTON, Ky. - Almost always, these games don't live up to the billing. This didn't -- it exceeded expectations.
It has been hyped all offseason as the No. 1 vs. No. 2. As it turned out, North Carolina came into the game fifth in the nation -- after a road loss to UNLV -- and it was Kentucky that entered with the top billing.
But it didn't matter.
The game was electric from the tip. Kentucky punched North Carolina in the mouth, taking a quick 9-2 lead. However, the Tar Heels responded and wound up taking a 43-38 lead into the break.
However, North Carolina also went into halftime with three fouls on star forward Harrison Barnes - who picked up his third with a little more than six minutes in the first half.
Then it was Doron Lamb who backed up his words in the second half.
Lamb, who less than 24 hours prior said that his team was more talented and the backcourt clearly had superior talent to UNCm had a couple of huge drives midway through the half - and then buried two mammoth 3-pointers to give Kentucky control.
North Carolina, after a missed free throw by Kentucky freshman Marquis Teague with 20 seconds left, had a chance to win the game on the final possession.
The play was designed to go in the post to Tyler Zeller, but ultimately ball wound up in John Henson's hands - who shot what appeared to be an uncontested 12-footer from the right side. Then the only guy in the country who could block Henson's shot, Kentucky freshman Anthony Davis, did just that to seal the win.
Kentucky 73, North Carolina 72.
I'm not sure I've seen a more riveting December game. Two teams loaded with pros -- in a crazy setting at Rupp Arena.
It was so entertaining, I want to see it again.
Maybe April 2.
More College Basketball coverage