Here's everything you need to know about Tuesday's slate of college basketball games …
Game of the day: Kenpom.com anointed North Carolina State vs. St. Bonaventure as the game of the day prior to Tuesday – and he certainly wasn't wrong. It was a back and forth game throughout, but it looked like it was heading to overtime once Eric Mosley tied it up at 65 with 3.1 seconds left. Then C.J. Williams launched a full-length pass to C.J. Leslie, who somehow got a shot off to win the game for the Wolfpack. Check the really high-quality video above.
Win to brag about: Northern Iowa was 6-0 on its homecourt heading into Tuesday, but Ohio went into Cedar Falls and came out with a 17-point win. The Bobcats shot 52 percent from the field, 52 percent from 3-point range and stifled Northern Iowa on the defensive end. Ivo Baltic went for 22 points in the win for Ohio, which is now 10-1.
Loss to hide from: There weren't any truly bad losses on Tuesday, but Stephen F. Austin dropping one to Prairie View A&M tops the list. Prairie View didn't have a Division-I win all season and had won just two games away from home in the last season and a half. Stephen F. Austin expected to contend in the Southland this season, but going 0-for-8 from 3-point range en route to a 53-50 loss isn't going to do it.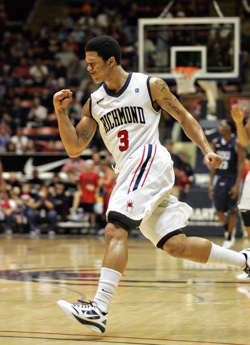 Player who deserves improper benefits: Richmond's Darien Brothers scored 38 points to lead the Spiders to a 90-82 overtime win against Old Dominion. Brothers jumpstarted the extra period with a four-point play to give Richmond a lead it would never relinquish. Overall, he had 19 points in the last 11 minutes of regulation and overtime.
Player(s) who does not deserve improper benefits: Coming off Butler's win against Purdue over the weekend, we expected the Bulldogs to show better against Gonzaga. Instead, they got behind early and fell, 71-55. Three of Butler's top four scorers – Andrew Smith, Chase Stigall and Chrishawn Hopkins – combined to shoot 3-for-21 for a grand total of seven points.
Numbers don't lie:
358: Towson lost to Manhattan on Tuesday night. The Tigers have now gone 358 days without a win.
November 16: Prior to its win over UNC-Asheville, Tennessee hadn't defeated a Division-I team in over a month.
11-1: After its win over St. Francis (Pa.), Pittsburgh has now started 11-1 in 11 of the last 12 seasons. The PA announcer in that game had to call out an update after every basket due to a scoreboard malfunction.
Three other notable results:
Charleston looked poised to pull the upset over Louisville, but a quick 8-0 run in 70 seconds gave the Cardinals a seven-point lead with two minutes left. Louisville held on, 69-62.
Doron Lamb shot 8-for-12 from the field to lead Kentucky to an 82-50 win over Samford.
Syracuse stayed undefeated with an 80-61 victory over Patriot favorite Bucknell.
Notes:
Jared Sullinger returned from a foot injury to play 30 minutes against Lamar. He scored 18 points and grabbed 11 rebounds in a 70-50 win.
New Mexico's game against Montana State was delayed 30 minutes by a fire alarm before tipoff. Per the AP, it was the third time in the last two seasons New Mexico has had a game delayed.
BYU bounced back from an early deficit to beat Buffalo, 93-78.
North Texas freshman Tony Mitchell is averaging 12.0 points and 9.0 rebounds in his first two games since becoming eligible.
Solomon Hill had 23 points and 11 rebounds to help Arizona get an 85-73 win over Oakland.
On tap: There are several good games to check out on Wednesday. The best game of the night should be Texas taking on North Carolina, with Myck Kabongo going head-to-head with Kendall Marshall. Seton Hall also faces Dayton, and Alabama looks to bounce back against Oklahoma State. A couple of teams with gaudy records battle in DePaul and Cal Poly, and Parrish will be at Mississippi vs. Middle Tennessee State.
Photo: US Presswire
Video: YouTube