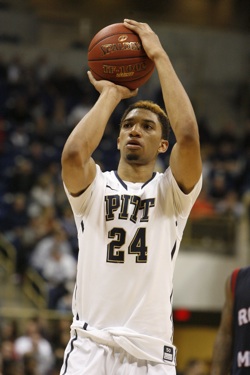 By Jeff Goodman
Khem Birch wants to make a couple things clear.
First of all, he didn't bolt Pittsburgh because he's in a rush to get to the NBA. Second, he didn't leave because of those around him telling him that Jamie Dixon's program wasn't best for him.
Birch said he left because he wasn't happy at Pittsburgh and didn't feel it was the right fit. The soft-spoken Canadian, who left the Panthers after just 10 games, admitted that he didn't "bond with the players on the team" -- and that the style of play wasn't ultimately one that suits his game in an ideal manner.
"Coach (Jamie) Dixon is a great coach and a terrific person," Birch told CBSSports.com from his home in Canada. "I just didn't think it was the best place for me."
The bottom line is that Birch, who was the highest rated recruit in Dixon's tenure, wasn't happy. There are some who felt he should have stuck it out longer, but Birch said that he and his mother decided it was best for him to play elsewhere.
"I'm not in a rush to get to the NBA," he said "I know I have a lot of work to do."
Birch reiterated that he wants to go somewhere more up-tempo and a spot where he can develop his four-man skills. "I want to play more four," he said. "That's one of the main reasons I went to Pittsburgh in the first place. I know I don't have the four-man skills yet, but I want to develop them."
He said that several schools have expressed interest thus far. His early list includes Florida, UNLV, Gonzaga, Washington, Xavier and New Mexico State. Birch is close with fellow Canadian Kevin Pangos at Gonzaga and also developed a friendship with big man Sim Bhullar - who is at New Mexico State.
"I'm going to try and take a few visits soon," he said. "I just want to make the right decision."
Photo: US PRESSWIRE