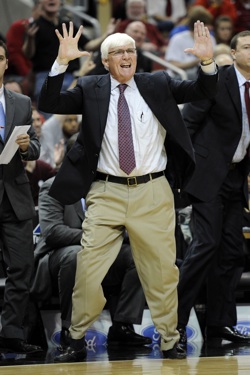 Charleston head coach Bobby Cremins knew he was going to miss Andrew Goudelock this season.
But it wasn't until Goudelock returned to practice with the Cougars during the NBA lockout that Cremins realized what he was losing.
"He put on a couple of shows," Cremins said by phone. "I said to myself, 'Wow, I forgot how good he was.'"
Goudelock ended his career as the school's all-time leading scorer, averaging 23.7 points during his final season. He also led the Cougars to an average of 25 wins over his last three seasons in Charleston.
Without him – and the rest of its top three scorers – everyone expected Charleston to take a step back. That sentiment was cemented even further when Willis Hall, a projected starter, tore his ACL before the season started and was lost for the entire campaign. Yet the Cougars currently sit at 10-2 heading into Friday night's game against George Mason.
"This team has surprised me," Cremins said. "We're not where I want us to be yet, but the potential is really there. We are playing well. Right now we're definitely in the mix."
Charleston looks a lot different than a year ago. Senior Antwaine Wiggins – Goudelock's best friend – has taken a huge step forward, averaging 18.1 points and 6.8 boards per game. Wiggins teams up down low with Trent Wiedeman (11.1 ppg, 7.9 rpg) to form one of the best inside tandems in the conference. Junior point guard Andrew Lawrence was named to the Bob Cousy Award candidate list, and he's been a playmaker for the Cougars.
Two freshmen have also been keys for Cremins. It starts with guard Anthony Stitt, who is averaging 13.3 points and shooting 44.4 percent from 3-point range in his last seven games.
"He's a point guard, but he comes off the bench, so when he's in the game, we play two PGs," Cremins said. "He has been good for us."
6-foot-9 forward Adjehi Baru was the highest-rated recruit in school history. The Ivory Coast native originally chose the Cougars over North Carolina, Maryland Virginia Tech.
While not dominating, Baru has certainly shown flashes of his potential. He had 14 points and seven rebounds in a win over UNC-Asheville, and 11 points and eight boards against Holy Cross.
"We're really, really happy to have him," Cremins said. "I think the world of the kid. In a year or two, he has a chance to be a special player. But he's not there yet, he's learning. He always plays hard."
Without Goudelock, Charleston has been far more balanced. Cremins said the team changed its entire offensive philosophy: they don't use as many ball-screens for Goudelock and there aren't any plays designed to simply get one player (Goudelock) the ball. They've made an effort to get the ball inside more than last year, with Baru, Wiedeman and Wiggins forming a very good frontcourt trio.
A close loss to Louisville before Christmas showed the nation that Charleston will still be a tough out – even without Goudelock.
"For a day [the loss] the really lingered. They were down for a day or two," Cremins said. "But we had to move on. I was proud of them."
With Charleston heading into Southern Conference play as the league favorite, expect more highlight moments that help Cremins forget about Goudelock.

As much as he can, at least.
Photo: US Presswire