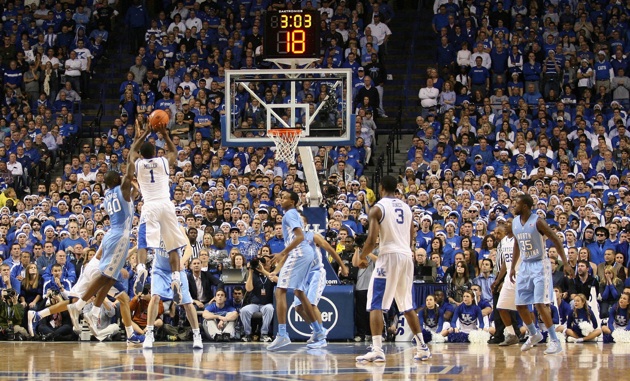 If there's one thing we've learned after years of writing about college basketball on the Internet, it's that people love two things more than seemingly anything else: predictions and awards. Therefore, we've combined the two for our midseason awards.
We take a look back at the first two months of what has been a great campaign so far, but we also look ahead to the next two months – and the NCAA tournament. How likely are we to be right? Well, take a look at our Preseason Predictions to get a feel for our collective level of genius (Goodman brings it down, obviously). Let's get to it.
National Champion
Jeff Goodman: Kentucky. Michael Kidd-Gilchrist gives these guys the toughness, Anthony Davis brings the length, Doron Lamb the perimeter shooting and Marquis Teague will hit his stride come SEC play. I don't care if Terrence Jones is an enigma, as long as he shows up for a couple games in March and April, it'll be enough.
Gary Parrish: Kentucky. I love talent and nobody has more than Kentucky. They overwhelm you offensively and guard you tremendously. They have shooters and shotblockers and lots and lots of pros. Yes, John Calipari is about to get his first national championship.
Jeff Borzello: North Carolina. Had Anthony Davis not blocked John Henson's mid-range jumper in the final seconds, would everyone still be picking Kentucky? The Tar Heels have the best frontcourt in the country, and Kendall Marshall is a calming influence come March.
Matt Norlander: Kentucky. It's who I had at the start of the year. My other three colleagues went with North Carolina. I know Goodman's already turned heel and come over to my side.
Final Four
Goodman: Kentucky, North Carolina, Connecticut, Florida
Parrish: Kentucky, North Carolina, Ohio State, Connecticut
Borzello: North Carolina, Kentucky, Ohio State, Florida
Norlander: I hate doing this BECAUSE WE HAVE NO BRACKET. So do I pick the four best teams? Because how often does that happen? So ... no? I pick a random team that I'm guessing won't get placed in the same quad as Kentucky? What the hell: Kentucky, Syracuse, UNLV, Wagner. Because I can. And because that Danny Hurley sure does deserve a feature treatment or two.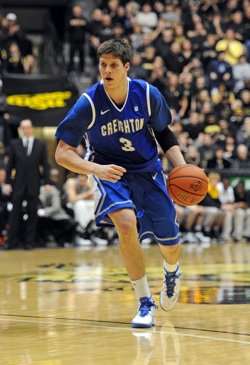 Cinderella
Goodman: Weber State. These guys have one of the nation's top guards in Damian Lillard -- and have another guy that can light it up from the perimeter in Scott Bamforth. The Wildcats need -- and will get -- forwards Kyle Bullinger and Frank Otis back healthy soon.
Parrish: Saint Louis. Rick Majerus has a team that guards tough and shoots really well. Nobody will want to play them early in the tournament, I assure you.
Borzello: Creighton. The Bluejays have high-major size with Doug McDermott and Greg Echenique, and a very capable point guard in Antoine Young. They also are one of the best 3-point shooting teams in the country.
Norlander: Iona. The Wall Street Journal's Ben Cohen tweeted at me Wednesday, "Can't wait to pick Iona over Vandy come March." That's so true!
Undervalued
Goodman: Xavier. Everyone has forgotten about the Musketeers and what they did prior to The Brawl. These guys were 9-0 and will get their swagger back in A-10 play.
Parrish: Xavier. The Musketeers are unranked and struggling post-brawl. But give it time. This team is still talented. They'll be there in the end.
Borzello: BYU. The 16-point loss to Saint Mary's to open WCC play certainly didn't help, but the Cougars have plenty of weapons and can also defend. Matt Carlino has been a key since becoming eligible.
Norlander: Mississippi State. The Bulldogs can make the Final Four but everyone's just waiting for the Renardo Sidney haymaker to come. It won't. MSU is forever enigmatic but really quite loaded.
Overrated
Goodman: Indiana. I know the Hoosiers deserve their lofty ranking, but these guys are still more of a fringe Top 25 team than one that belongs in the Top 12.
Parrish: Syracuse. Yes, the Orange are good. We even have them ranked No. 1. But are they really the nation's best team? I don't think so. So they are, by definition, overrated.
Borzello: Wisconsin. If you trust KenPom.com (and I usually do), one might think the Badgers are the second-best team in the country. They're not even close. Jordan Taylor has struggled without defenses focusing on Jon Leuer.
Norlander: Florida. The Gators have some nice pieces. I love Voltron in the middle. But they aren't heat-seeking the Final Four, like many are still holding on to. Not a top-10 team. Come at me, UF fans. Wait, first -- look, Kenny Boynton just took an ill-advised 3 walking across the quad!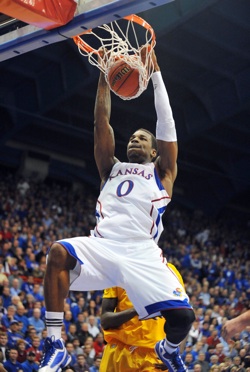 Player of the Year (so far)
Goodman: KU's Thomas Robinson. The guy brings it each and every night. He's averaging 17.7 points and 12.2 boards per game and already has nine double-doubles.
Parrish: KU's Thomas Robinson. The 6-foot-9 forward is averaging 17.7 points and 12.2 rebounds per game. He's a dominant player on a nationally relevant team.
Borzello: KU's Thomas Robinson. If Jared Sullinger played every game and Marcus Denmon wasn't on such a balanced team, I might think differently. Robinson is a dominant force down low, and he doesn't have much help inside.
Norlander: Creighton's Doug McDermott. His numbers continue to hover well above what Jimmer did last year -- and remember, Jimmer won most of the POY awards.
All-American Team (so far)
Goodman: Thomas Robinson (Kansas), Michael Kidd-Gilchrist (Kentucky), Jared Sullinger (Ohio State), Harrison Barnes (North Carolina), Jeremy Lamb (UConn)
Parrish: I like my All-American teams to be like actual teams with a point guard, two wings and two bigs. So ... Kendall Marshall (North Carolina), Marcus Denmon (Missouri), Michael Kidd-Gilchrist (Kentucky), Thomas Robinson (Kansas), Jared Sullinger (Ohio State)
Borzello: Marcus Denmon (Missouri), Harrison Barnes (North Carolina), Michael Kidd-Gilchrist (Knetucky), Thomas Robinson (Kansas), Jared Sullinger (Ohio State).
Norlander: Doug McDermott (Creighton), Jared Sullinger (Ohio State), Thomas Robinson (Kansas), Marcus Denmon (Missouri), Draymond Green (Michigan State).
Freshman of the Year (so far)
Goodman: UK's Anthony Davis. I'm not going to duplicate and go with Michael Kidd-Gilchrist, even though he's Kentucky's MVP. Davis is the game-changer on the defensive end with his length and shot-blocking ability.
Parrish: UK's Michael Kidd-Gilchrist. He's the leader of the team I believe will win the national title. He had 24 and 19 in that win over Louisville.
Borzello: UK's Michael Kidd-Gilchrist, Kentucky. Been doing Freshman of the Year rankings every week, and Kidd-Gilchrist finally overtook Anthony Davis after the Louisville game. He's Kentucky's most important player.
Norlander: I'm offering up IU's Cody Zeller. There's no way Indiana's this good if he's not there. He's one of the most reliable scorers in hoops, and again, only a freshman. A better defense player than people realize, too.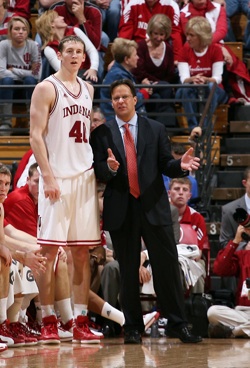 Coach of the Year (so far)
Goodman: Tom Crean. The Hoosiers coach deserves the honor. He's got two huge resume wins - against Kentucky and Ohio State in Bloomington.
Parrish: Steve Prohm. The first-year Murray State coach has the Racers undefeated with a win at Memphis. Put another way, he's still never lost a game as a head coach.
Borzello: Tom Crean. No one thought the Hoosiers were going to make the NCAA tournament, yet they have the most impressive pair of wins in the country, over Kentucky and Ohio State. He's certainly not on the hot seat anymore.
Norlander: Frank Haith. I gave Indiana love in the category above, so I'll take a turn and make my case for the Missouri coach. He's down to seven scholarship players, the expectations were ankle-level for him ... and the team is undefeated. Can make a Final Four. Dude has to be walking into his home win the confidence of Jay-Z every night because of how he's proved everyone wrong so far.
Biggest Surprise (so far)
Goodman: San Diego State. Steve Fisher lost four starters - including first-rounder Kawhi Leonard. Somewhow, the Aztecs are in the Top 25. I think I need to get back to San Diego -- and soon.
Parrish: Georgetown. The Hoyas were picked 10th in the Big East. Now they're ranked ninth in the country with wins over Louisville, Memphis (twice) and Alabama.
Borzello: Missouri. Everyone knew the Tigers had talent, but preseason injuries and a new head coach left them as a question mark. Now, they are 14-0 and one of the most dangerous teams in the country.
Norlander: Indiana. If you're telling me you saw this start coming, then I reserve the right to assume your place resembles Kevin Spacey's in "Se7en."
Biggest Disappointment (so far)
Goodman: I was going to go with Gary Parrish, but then I was told we could only go with college basketball teams or players. That makes it awfully difficult, but I'm going with the entire Pac-12. I attended a school in this league - and the entire conference stinks right now.
Parrish: Pittsburgh. The Panthers were ranked 10th in the preseason. Now they're unranked with losses to four unranked teams -- Long Beach State, Wagner, Notre Dame and Cincinnati.
Borzello: Pittsburgh. The Panthers came into the season as a top-10 team, but have done nothing of note and have lost four games already – to four teams that might not make the NCAA tournament. Jamie Dixon needs to figure something out, and fast.
Norlander: Xavier. Just with everything. Being in the Crosstown Punchout and the fallout since then. X has a Final Four ceiling. Or had. Can they recover and play themselves back into a 5 seed or better?
Photos: US Presswire