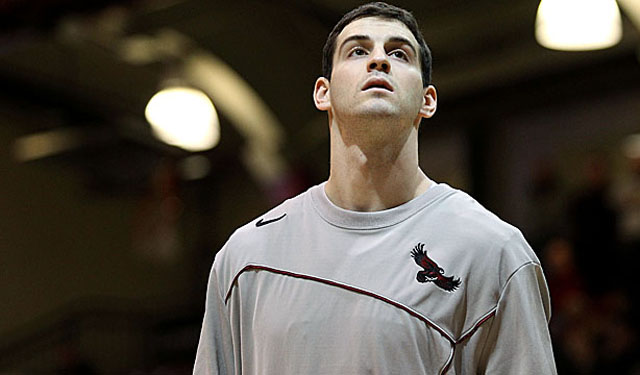 (US Presswire)
By Jeff Goodman
Todd O'Brien told CBSSports.com he's willing to sign anything, waive anything -- in order for Saint Joseph's to finally divulge the reason why it hasn't allowed him to play this season at UAB.
"I have nothing to hide," O'Brien said on Monday. ""I'll sign whatever they want. "
A call to Saint Joseph's athletic director Don DiJulia was not immediately returned Monday in an effort to see if the school had any response to O'Brien's willingness to waive student privacy laws.
O'Brien, if you recall, averaged one point per game last season at St. Joe's and transferred to UAB. He was hoping to take advantage of the NCAA's rule which allows a player to utilize his final season of eligibility immediately - pending he has graduated and will study a major that wasn't offered at his previous institution.
St. Joe's coach Phil Martelli and the administration didn't sign off on O'Brien being allowed to compete at UAB this year -- and the NCAA upheld the decision.
O'Brien told CBSSports.com his latest appeal by the NCAA was denied.
No one truly knows the reason that St. Joe's hasn't allowed O'Brien the opportunity to finish his college career.
There has been speculation that O'Brien's involvement in a stolen laptop incident -- one in which he was cleared -- played a factor. Others believe it's because Martelli felt O'Brien wasn't truthful and used the school to pay for summer classes while he knew he was transferring. There are those who feel as though Martelli won't sign it because O'Brien isn't going to UAB for academics.
"We respect the fact we can't comment," St. Joe's athletic director Don DiJulia told CBSSports.com last week. "Due to federal privacy laws."
But now O'Brien has made it clear he will waive whatever laws exist so that the school is forced to state its case.
"I just want the truth to come out," O'Brien said.
Martelli told CBSSports.com last week it was an NCAA matter and that his position remains in tune with the university.
"That's all I can say," Martelli said. "We stand by the NCAA's decision."
"The problem is that the NCAA is saying it's St. Joe's decision and the school is putting it on the NCAA," O'Brien said. "It's ridiculous."
What's ridiculous is if St. Joe's continues to remain tight-lipped.