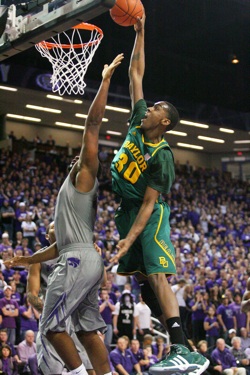 Is it time to take Baylor seriously?
Like that seriously? Like Final Four, national champion seriously? As seriously as we take Kentucky, North Carolina, Ohio State and Syracuse?
Those four teams have separated themselves as something of an elite quartet this season, the four best teams in the country. After Baylor's 75-73 win at Kansas State on Tuesday night, though, it might be time to add another team to that group.
The Bears went into Bramlage Coliseum and knocked off a Wildcats team that was coming off a 16-point throttling of previously unbeaten Missouri. They shot 53.7 percent from the field, forced 19 turnovers and grabbed 12 offensive rebounds. Heading into the game, Kansas State was allowing 0.87 points per possession; Baylor scored 1.10 per trip.
Even more impressive, the Bears did it with basically everyone in foul trouble. Perry Jones, Quincy Acy, Quincy Miller, A.J. Walton and Pierre Jackson all had four fouls, forcing head coach Scott Drew to go with some makeshift lineups down the stretch.
From a pure talent standpoint, not many teams can compete with Baylor. Miller and Jones are future lottery picks, and Acy is an athletic forward who makes plays at both ends. In the backcourt, Walton is an aggressive defender, while Jackson is an explosive guard who is a tremendous playmaker when under control. Brady Heslip has provided a consistent perimeter option from 3-point range.
There's plenty of depth, too. Anthony Jones is one of the more versatile players in the Big 12, and Cory Jefferson has had his moments inside. Deuce Bello is a freak athlete, while California transfer Gary Franklin provides a scoring boost.
The personnel is all there.
With its length and athleticism, Baylor is a nightmare to face on the defensive end. As they showed against Kansas State, the Bears can force turnovers in the man-to-man. It's difficult to score inside against Baylor because of the size it has down low, and they don't foul very often (despite the troubles against the Wildcats).
So why don't people believe in Baylor?
For one, it's hard to trust Jackson or Walton on a consistent basis at the point guard position. Both players have trouble taking care of the ball, and have a tendency to play out of control at times.
Offensive efficiency in the halfcourt has crept up as a potential weakness as well. While Jones is one of the most talented players in the country, he doesn't always assert himself on the offensive end. Heslip and Jackson have been the only guys knocking down 3-point shots so far this season.
And the issue of coaching also hovers over the team; can Drew win a big game? He led Baylor to the Elite Eight in 2010, but many people still look at him as a guy who just stockpiles talent and isn't the X's and O's coach that some of the other elite head men in the country.
This season, though, every team has problems. Even Kentucky, North Carolina, Ohio State and Syracuse.
It shouldn't stop Baylor from joining that group. The Bears are elite.
Photo: US Presswire