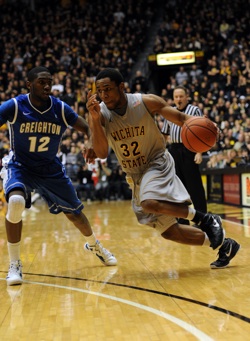 The Missouri Valley Conference as a whole hasn't been this good in several years, with several teams capable of winning the league title. Moreover, the middle of the league is strong and road games in the MVC are as tough as any league in the country.
But it's those strengths – good depth and teams that protect their home court – that could limit the Missouri Valley to two bids this season.
Right now, there's six teams with at least 10 wins and RPIs that are 102 or better.
Creighton has the best chance of any team in the league to get an at-large bid. The Bluejays are the regular-season favorite and already have non-conference wins over Northwestern and San Diego State. Moreover, they beat Wichita State on the road and held off Northern Iowa on Tuesday night. While the losses at Saint Joseph's and Missouri State were surprising, they're not bad defeats. They're in the best shape going forward.
Then there's Wichita State. The Shockers have the best win of anyone in the league, their 19-point home victory of UNLV back in early December. All three of their losses are to top-25 RPI teams and they've already picked up two road wins in MVC play. Assuming Wichita State is still in the mix come February, a six-game stretch where it faces Creighton, Northern Iowa, Indiana State, Illinois State and Missouri State (twice) will put them in or out of the field.
After that, I'm not sure there's anyone with a NCAA tournament-worthy profile at this point.
Northern Iowa has great computer numbers, but the Panthers need more quality wins. Iowa State is the best one so far. Two sub-100 losses and a 2-3 start to conference play aren't helping either.
Missouri State could be an interesting case. The Bears already won at Creighton and Indiana State, which will give them a big boost later in the season. If they hold serve at home, they could be in contention for the regular-season title. That would be a nice card to play on Selection Sunday.
Illinois State has a gaudy record and wins over Northern Iowa and Missouri State, but three sub-100 losses and bad computer numbers will seal their fate. Indiana State has a road win at Vanderbilt, but the rest of the cupboard is pretty bare. Both would have to make a huge run.
Although league play is only a couple of weeks old, we're already starting to see the top teams beat up on each other. While that makes for an exciting conference race, it's not good for at-large teams. Moreover, some of the teams at the bottom are proving to be very tough tests for the top-tier teams, especially on their home court. Going forward, a couple of teams are going to need to separate themselves from the pack. A big Bracket Busters weekend from the league is necessary, too.
Creighton and Wichita State seem to be in good shape, but the rest of the league has a lot of work to do if more than two teams are coming out of the MVC.
Photo: US Presswire