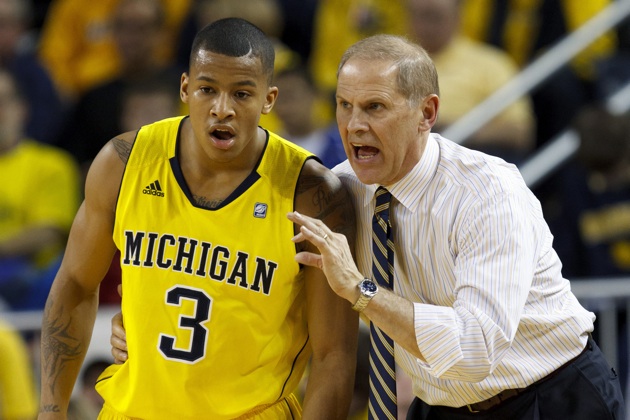 Trey Burke had 20 points, including the game-winning assist, to lead Michigan to a 60-59 win over Michigan St. (US Presswire)
Here's everything you need to know about Tuesday's slate of college basketball games …
Game of the day: Michigan struggled defensively for much of the second half, but the Wolverines came up big down the stretch to hold on to a 60-59 victory over Michigan State. Stu Douglass made the game-winning layup with 36.5 seconds left, off a terrific pass from Trey Burke. Draymond Green missed a potential game-winning shot and tip-in on the Spartans' final possession. Burke led the way with 20 points.
Win to brag about: Beating Maryland in itself isn't that impressive, but Florida State continues to turn it around after an embarrassing loss to Clemson two weeks ago. The Seminoles used a 21-3 run in the second half to dispatch of the Terrapins, 84-70. For a team that has the reputation of being offensively inept, Florida State has now scored at least 84 points in three of its last five games. Ian Miller and Okaro White combined for 31 points off the bench.
Loss to hide from: I have no clue how Toccoa Falls does against its usual competition (it's 3-6), but it apparently can't handle Division-I opposition. Western Carolina had nine guys score in double figures, defeating the Eagles, 141-39. The Catamounts outrebounded Toccoa Falls 62-16, and only three players did not reach double-figures in scoring.
Player who deserves improper benefits: Anthony Davis has had several impressive performances this season, but Tuesday's game took the cake. The Kentucky freshman had 27 points, 14 rebounds and seven blocks to lead the Wildcats to an 86-63 win over Arkansas. Moreover, he broke the school's single-season record for blocks – with 12 games left in the regular season.
Player(s) who does not deserve improper benefits: Texas Tech's Jordan Tolbert has been one of the most underrated freshmen in the country this season, but Tuesday didn't show that. Tolbert went just 1-for-10 from the field and turned it over five times before fouling out. The Red Raiders lost to Oklahoma, 64-55.
Numbers don't lie:
3:

After losing 18 of 21 in the rivalry, Michigan has now defeated Michigan State three straight times.

102

: The margin in Western Carolina's win over Toccoa Falls was the third-largest in Division-I history.

15

: It's been 15 years since an SEC player had 27 points, 14 boards and seven blocks in a game. Anthony Davis did it tonight.
Three other notable results:
With first place in the Big South on the line, UNC-Asheville improved to 8-0 with a victory over second-place Coastal Carolina. J.P. Primm had 23 points, helping UNCA overcome six guys scoring in double-figures for Coastal.
Purdue bounced back from last week's loss to Wisconsin with a 75-68 win over Iowa. The Boilermakers overcame a five-point halftime deficit.
Jason Clark scored 31 points despite going just 4-for-9 from the free-throw line, leading Georgetown to an 83-75 road win at DePaul.
Notes:
The lone overtime game on Tuesday was between LSU and Auburn. Auburn's Varez Ward sent it into an extra session with a 3-pointer with 0.2 seconds left, but LSU dominated the overtime for a 65-58 win.
Boise State freshman Anthony Drmic had a chance to make a name for himself early in Mountain West play, but he shot just 1-for-8 from the field in a 66-55 loss to Colorado State.
North Dakota State, currently 6-2 in Summit League play, went into North Dakota – a team with three D-I wins this season – and lost, 59-54.
More College Basketball coverage