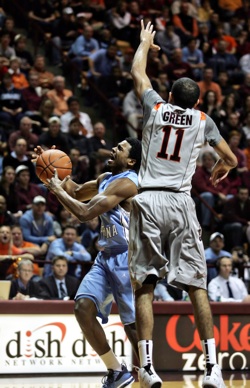 North Carolina took a big blow to its championship hopes on Friday when the Tar Heels announced that starting guard Dexter Strickland was done for the season with a torn ACL.
Strickland suffered the injury in Thursday's win over Virginia Tech, when he planted going up for a shot early in the second half (pictured to the right). After the game, he said he didn't think anything popped but it was sore. North Carolina said his knee would be looked at when they returned to Chapel Hill.
Strickland, a 6-foot-3 junior from New Jersey, is the team's best perimeter defender and the Tar Heels' backup point guard to Kendall Marshall. He was averaging 7.5 points and 2.1 assists, shooting 57 percent from the field.
He is the second North Carolina guard to be lost for the season. Over the summer, junior Leslie McDonald tore his ACL and will miss the entire campaign. McDonald recently decided he would take a redshirt this season.

Without Strickland, North Carolina will have to rely heavily on the duo of Reggie Bullock and P.J. Hairston. Both are more prolific scorers than Strickland, and are the two best shooters in the backcourt, but the Tar Heels will miss Strickland's defense and ball-handling ability.
Photo: US Presswire