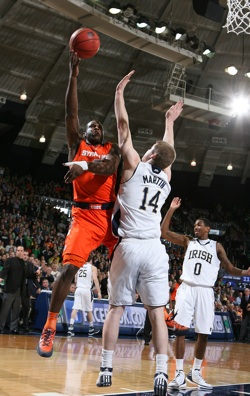 Murray State is the last one standing, as No. 1 Syracuse lost its first game of the season on Saturday at Notre Dame, 67-58.
The Orange were 20-0 heading into Saturday, then the school announced starting center Fab Melo would miss two games. Most people thought the loss would hurt them, but not this much, and not this quickly.
Notre Dame jumped out to a double-digit lead in the first nine minutes – the first time all season Syracuse trailed by more than nine points all season. Syracuse made a run at the end of the first half and the beginning of the second half, but the Fighting Irish kept responding.
All the problems people have pointed to all season with Syracuse seemed to come to a head on Saturday. Notre Dame dominated the Orange on the glass in the first half, getting several second chances against the zone. The Irish had a few careless turnovers (especially down the stretch in the second half), but they didn't allow Syracuse to get out in transition and get easy baskets in fast-break opportunities until late in the game.
The lack of a go-to-guy was highlighted when Syracuse badly needed a basket in the first half. The Orange simply didn't know where to turn. Kris Joseph struggled early; Dion Waiters didn't do much besides back-to-back 3-pointers near the end of the first half; and Brandon Triche and Scoop Jardine couldn't get to the rim and create shots for themselves or teammates all night.
This was a combination of Syracuse not knowing how to react when getting punched in the mouth early, and Notre Dame simply not missing throughout the game. The Fighting Irish shot 50 percent from the field and made eight 3-pointers. Baye Moussa Keita and Rakeem Christmas had trouble replacing the production of Melo on the inside, as well.
Of course, this isn't the end of the world for Syracuse – assuming Melo returns after Monday's game against Cincinnati. He provides a dimension at both ends of the floor that no one else on the Orange can provide. Road trips in the Big East are no cakewalk, so it comes as no surprise that Syracuse was felled away from home.
Murray State now has the lone baton in the undefeated race.
Photo: US Presswire