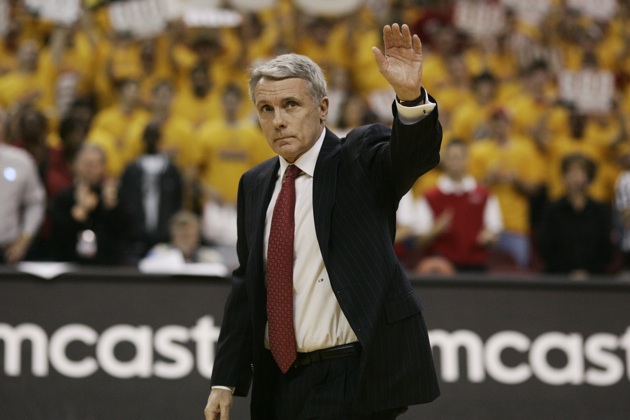 Maryland will name its Comcast Center court after legendary head coach Gary Williams tonight against Duke. (US Presswire)
On Wednesday night, Maryland will name the Comcast Center court after former head coach Gary Williams. He is the school's all-time winningest men's basketball coach and led the Terrapins to their only national championship in basketball.
It should be a great atmosphere and a great moment for everyone associated with the program.
Except former head coach Lefty Driesell, who doesn't think any one coach should have his name on the court.
"It's not fair to my players that they would put Gary Williams' name on the court," Driesell told The Baltimore Sun. "It's a disservice to players such as Tom McMillen, John Lucas, Len Elmore, Brad Davis, Greg Manning, Adrian Branch and Steve Sheppard."
Driesell is second in school history in wins, but resigned after the death of Len Bias in 1986. He went to eight NCAA tournaments in his 17 years with the Terrapins, and also coached the 1974 team that didn't go to the NCAA tournament but was widely considered one of the best teams that season.
During Williams' 22 years at the helm, Maryland went to 14 NCAA tournaments – including 11 consecutive from 1994-2004. The Terrapins reached the Final Four twice under Williams, and made the Sweet 16 on seven separate occasions.
Despite its struggles over the past few seasons, Maryland was one of the best basketball programs in the country for much of Williams' tenure. The Terrapins were a perennial contender, and became a consistent national player under Williams. According to many, the Comcast Center was built because of the attention Williams brought to the program.
Does Driesell deserve recognition of some kind? Likely – and the school is considering honoring him in some way.
But for the Comcast Center basketball court, it's tough to argue with naming it after Williams.