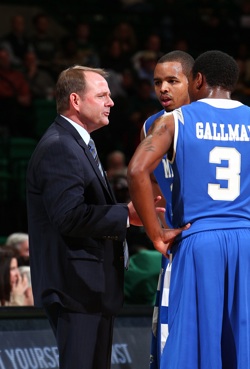 With multiple major conferences suffering down years and a number of mid-majors still unbeaten in conference play, we might see a higher number of non-BCS teams getting at-large bids this season.
One of those teams to keep an eye on could be Middle Tennessee, whose at-large hopes come down to Saturday.
That is when the Blue Raiders head to Vanderbilt in an intriguing non-league contest. Right now, Middle Tennessee sits at 19-2, with 12 consecutive wins heading into the weekend. The only losses were to Belmont – whom they also beat – and UAB.
Does Kermit Davis' squad hold legitimate at-large potential? The Blue Raiders have top-100 wins over Ole Miss, Akron and Belmont, with road victories over Loyola Marymount and UCLA also on the resume. Assuming they run the table in the Sun Belt – not a guarantee, with road games against North Texas and Denver remaining – and then lose in the Sun Belt tournament, the Blue Raiders do have a chance.
But it comes down to Saturday's game in Memorial Gym.
A win over Vanderbilt would vault Middle Tennessee's RPI into the top 50 and it would also give the Blue Raiders a marquee win to hang their hat on come Selection Sunday. Victories over Ole Miss and Akron don't have the same effect. The win would likely leave Middle Tennessee with at least a 5-1 record against the RPI top 100 heading into the NCAA tournament. That's tough to pass up.
A loss on Saturday, though, and Middle Tennessee might have to win the Sun Belt's automatic bid.
Photo: US Presswire