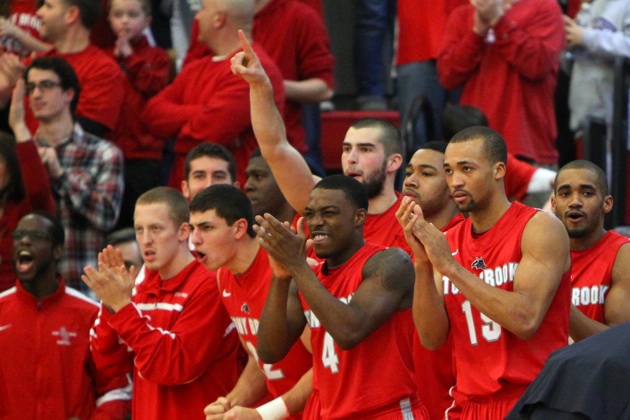 Stony Brook snapped a five-game losing streak to BU and became the America East favorite. (US Presswire)
STONY BROOK, N.Y. – Boston University has been Stony Brook's kryptonite the past three seasons, beating the Seawolves five consecutive times. The Terriers knocked Stony Brook out of the last two America East tournaments, including the title game a season ago.
The Seawolves finally broke through against BU on Friday night, with a 66-57 victory. Stony Brook is now 8-1 in the league – one game ahead of BU and Vermont.
Taking sole possession of first place in the conference by beating a team that had their number for the past few seasons wasn't lost on the Seawolves.
"We needed this win bad," junior Tommy Brenton said. "Coach has been reminding us about that streak. We knew we had to play harder, play more defense, play better offense."
On paper, Stony Brook has been the best team in the America East for much of the season. With the BU cloud hanging over its head, though, it was tough to name the Seawolves the favorite going forward.
That's no longer a problem.
"It's still halfway through," Brenton said. "We'll take it game-by-game, not relax and slip-up."
"We're confident," head coach Steve Pikiell added. "Too confident. We're always on them. They're veterans."
The road to an America East automatic bid now goes through Stony Brook, and the Seawolves have the pieces to make life difficult for any future opponent. It starts with their defense. They're now 11-0 when holding teams to fewer than 60 points, and they lead the conference in rebound margin (also rank No. 12 in the country in offensive rebounding percentage). They force turnovers, they don't foul and they defend the perimeter very well.
They're also physical and utilize gang rebounding and help defense.
"To prepare for them, you have to get your team to get ready to go," Boston University head coach Joe Jones said. "It's more about them collectively than about one guy."
Against BU, Stony Brook had to constantly bounce back. The Terriers hit 5-for-5 from 3-point range in the opening minutes, getting out to an early lead. In the second half, they went on 17-0 run midway through the period to take a four-point lead heading down the stretch. Stony Brook responded with a 19-6 run to end the game.
The past couple of years, would the Seawolves have had the strength to respond after a huge run?
"We get a little déjà vu when that happens," said leading scorer Bryan Douger. "We were able to pull out of it. It shows a lot of character about our guys."
The entire night showed how far the Stony Brook program has come in the last few years under Pikiell. There was not a single general-admission ticket sold for the game, as students and season-ticket holders packed the arena to capacity. The two student sections were nearly filled 45 minutes before the game to "Red-Out" BU.
If the Seawolves do reach the conference tournament title game again – and need to host it – they will have to play at a different on-campus arena. The current one holds just 1600; America East rules stipulate that title hosts need to have a capacity of 3000. Stony Brook's bigger arena is currently under renovation, but it would be the site of the championship.
"It was a championship-caliber game," Brenton said. "I'm sure we'll see them soon."
Only this time, Stony Brook will have already rid itself of the BU demon.