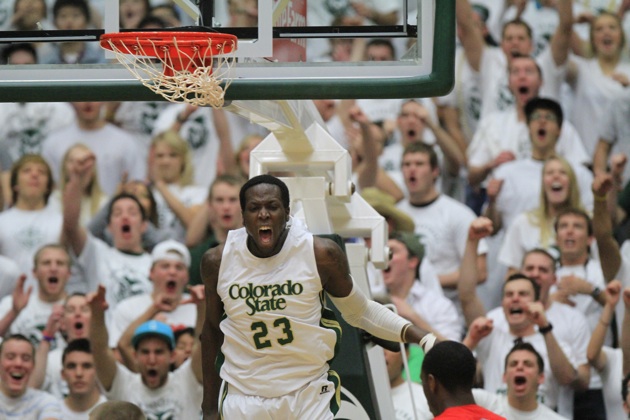 Colorado State's win over San Diego State gives the Rams legitimate at-large hopes heading into the final month. (AP)
It's no secret that schedule-based numbers like the RPI don't always agree with performance-based metrics from people like Ken Pomeroy and Jeff Sagarin. This year, Colorado State is the prime example of the dichotomy.
The Rams have the No. 18 RPI and No. 3 SOS in the country, putting them squarely in the NCAA tournament conversation. However, KenPom.com has them at No. 107 and Sagarin ranks them No. 91.
"Our numbers are fascinating," Colorado State head coach Tim Miles said.
As a result, many people have doubted the Rams as a legitimate at-large possibility this season. Road losses to Wyoming by 19 and New Mexico by 32 didn't help ease those concerns, and neither did a 21-point home defeat to Southern Miss.
Over the weekend, though, Colorado State opened plenty of eyes with a dominant home win over San Diego State, 77-60. The win finally gave the Rams a marquee win for their at-large resume, and also puts them back in the Mountain West title hunt.
"Our guys always thought that we would better this year than last year, and no one else thought that," Miles said, referencing his 19-13 campaign last season. "A win like [the one over SDSU] solidifies that in our thinking, and hopefully in others."
Colorado State can start thinking about its NCAA tournament resume now. The Rams are 13-6 overall, with a 3-2 record in MWC play. The computer profile is outstanding, as mentioned above, with a top-20 RPI and top-five SOS. On the plus side, they have the win over San Diego State, along with top-100 victories over Colorado and Denver.
On the flip side, they are just 2-5 away from home and 3-6 against teams ranked in the top 100 of the RPI. The margin in some of the losses is also a concern.
"We're not a dominating team," Miles said. "We don't play defense all that well; we're spurty. So, obviously because of lack of consistency on the defensive end, we've been doubted."
The Rams can erase even more of the detractors on Wednesday at UNLV. A win there would force everyone to take Colorado State seriously heading into the final eight games. Five of the final nine are on the road, but the Rams' hopes for a league title and at-large bid will come down to a three-game stretch in late February: home vs. New Mexico, at San Diego State and home vs. UNLV.
If Colorado State is within striking distance in three weeks, winning two of three during that stretch could really boost the profile. The win over San Diego State was a start, but there's still plenty of work to be done.
"You've got to keep doing it," Miles said.
More College Basketball coverage