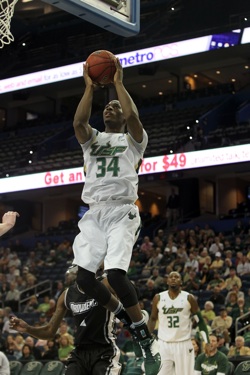 The Big East is undoubtedly down this season, but they will still get at least seven bids into the NCAA tournament. In fact, my most recent projected bracket gave the conference nine bids – with Cincinnati and Notre Dame sneaking into the field. Pittsburgh is making a run, too.
And what about South Florida?
South Florida?
Don't look now, but the Bulls are 6-3 in the Big East – and the schedule isn't terrible the rest of the way. Overall, the resume is lacking in most areas: they have three sub-100 losses, are 2-8 away from home, and are just 6-9 against the Top 150 of the RPI. The computer numbers aren't very good, either.
However, there are wins over Seton Hall and Cleveland State, and there are still opportunities to pick up marquee victories down the stretch. In its final nine games, South Florida will host Pittsburgh, Villanova, Cincinnati and West Virginia. At 10-1 on their home court this season, it's not inconceivable that the Bulls will go at least 3-1 in that stretch. They likely also need to pick up a win or two on the road – and it would help if it were against Louisville, Georgetown or Syracuse.
If South Florida gets to 11-7 in the Big East, could the Bulls get consideration for a bid?
The best comparison for 2011-12 South Florida might be 2008-09 Providence. That season, the Friars went 10-8 in the Big East, but their only good ones were over Pittsburgh and Syracuse. They had six losses of at least 17 points against Big East opponents, though. Keno Davis' club did not make the NCAA tournament that season, and was not really under close consideration down the stretch.
While the bubble is probably weaker this season, South Florida has a far worse resume at this point than that Providence team. With that said, the Bulls do deserve a mention going forward.
Photo: US Presswire