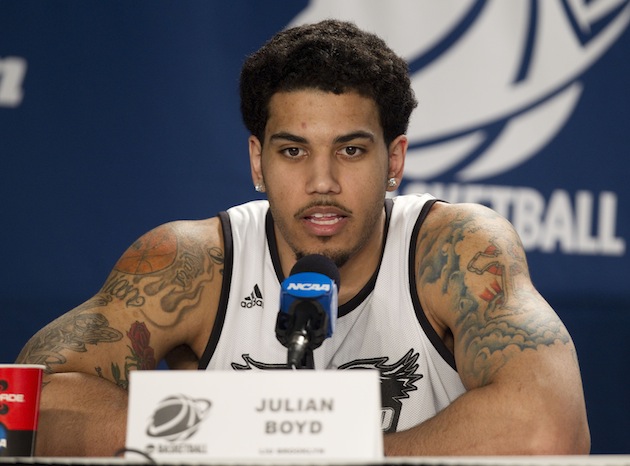 NEW YORK -- Some teams downplay homecourt advantage, especially in a balanced league like the Northeast Conference.
Not Jim Ferry and LIU-Brooklyn -- they know what kind of edge playing at the WRAC gives the Blackbirds.
"It's huge in this conference," Ferry said. "It's the most important thing."
Long Island has won 21 straight on its home court, including Saturday's 95-80 victory against Central Connecticut State -- a game that was marred by three technical fouls and a brawl during the post-game handshakes.
The win improved the Blackbirds to 11-1 in the conference, one game ahead of St. Francis (N.Y.). The two teams will play twice this week, but LIU has a pretty easy finish to the season after that. If Long Island ends up getting the No. 1 seed in the conference tournament again this season, mark it down: no one is beating the Blackbirds on their home floor. It doesn't matter if it's a sold-out gym or a sparse crowd, LIU-Brooklyn just plays with a different confidence on its home court.
"I didn't think about it until a few weeks ago, but we clearly shoot better," Ferry said. "Being at home definitely helped us."
Last season, LIU won the regular-season title, getting homecourt advantage throughout the conference tournament. The Blackbirds survived two close games in the semifinals and finals and got to the NCAA tournament.
Don't be surprised if that happens again this season.
Long Island has won 12 of its past 13 games, including a road contest at Wagner two weeks ago that changed the momentum of the conference race. While this week's two games against Brooklyn rival St. Francis (N.Y.) -- including the "Battle of Brooklyn" and a game at Madison Square Garden -- will decide the temporary league leader, it still looks like LIU has the inside track for the top seed.
Many of the same characters from last year's team are still major factors on this season's version. Julian Boyd (right) and Jamal Olasewere form the best inside tandem in the conference, with Boyd providing a go-to option offensively and Olasewere bringing his relentless activity at both ends. Jason Brickman is one of the best point guards in the league, and Michael Culpo can knock down shots. Kenny Onyechi provides legitimate depth inside. Long Island ranks third in the country in tempo, and many teams simply can't keep up with them.
"We had so many good players [last year]," Ferry said. "We don't have as much depth. Out returning players are better, we just don't have the depth -- but we still have enough."
The personnel is almost secondary to homecourt advantage, though. If the Blackbirds get the top seed in the conference tournament, they're likely heading to the NCAA tournament.
Photo: US Presswire