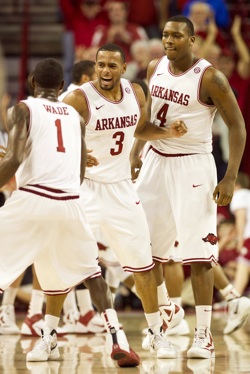 With several quality wins and a gaudy record, Arkansas came out of nowhere last week to get attention as a potential NCAA tournament team. In fact, the Razorbacks were one of the last teams chosen in multiple projected brackets.
Then came Saturday, when Arkansas went into Baton Rouge and lost to LSU, 71-65. By itself, the loss isn't terrible, but it highlights the glaring weakness on the Razorbacks' resume: zero road wins. Arkansas is 0-6 in away games.
"We had windows of opportunity to win on the road and we just didn't finish going down the stretch," head coach Mike Anderson said, according to Northwest Arkansas Newspapers. "That's life on the road."
It was also life on the road last season for Anderson, when he was at Missouri. The Tigers were just 2-7 in true away games a year ago, a number that kept their NCAA hopes in question until the final hours of Selection Weekend.
Right now, that would be the primary thing keeping the Razorbacks out of the NCAA tournament. Everything else is there: quality wins over Michigan, Vanderbilt and Mississippi State. A top-50 RPI. Only one loss outside the top 80 of the RPI.
With that said, it's tough to get an at-large bid without a road win. There are still chances, of course. Arkansas still travels to Georgia, Tennessee, Auburn and Mississippi State – at least three of those are winnable games. Win two of those, and the Razorbacks should feel a lot more comfortable about their road record. 2-8 is still hideous, but it doesn't jump out like an 0-fer would.
Arkansas is an extremely young team that simply hasn't figured out how to win on the road yet. The Razorbacks went 2-8 in away games last season, and there are four freshmen and two sophomores in the top eight of the rotation. There just isn't a ton of experience when it comes to pulling out tough games in hostile environments late in the season.
If Arkansas wants an NCAA bid, though, it needs to figure out how to win outside the friendly confines of Bud Walton Arena – and quickly.
Photo: US Presswire